27.01.12
by Jeff

Paintings by Stefan Kürten.
26.01.12
by Jeff

This documentary looks incredible! "Getting Up" is a film about legendary L.A. graffiti artist Tony "Tempt" Quan who was diagnosed with ALS and became almost completely paralyzed. Through the use of some amazing technology Tony is able to continue making art with the movement of his eyes.
Watch the trailer below!
26.01.12
by Jeff

Paintings by Tony Larson.
26.01.12
by Jeff

Mixed media drawings by Matt Leines.
26.01.12
by Jeff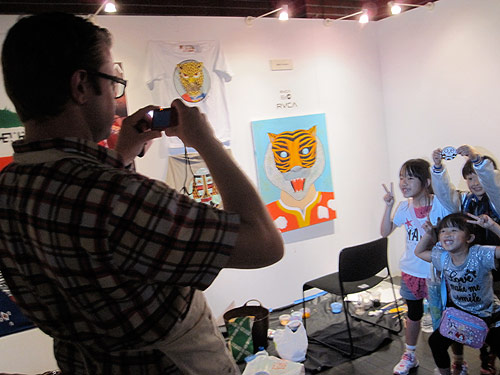 A couple years ago I ran into Matt Leines in Japan and I snapped this photo of him snapping a photo of some happy kids! The other day he sent me this photo out of the blue:

You can see his flash going off in my photo so we actually captured the same exact second! For some reason this I find this totally satisfying.
25.01.12
by Jeff
Our Synesthesia project with Yours Truly is under way! I'll be posting letters written by musicians to visual artists who've inspired them, and YT will be posting letters from visual artists to musicians (confused?). It will all make more sense if you check out a letter from illustrator Tom Edwards to Panda Bear, here.