We've teamed up with our friends at Destination BC to spotlight some of our favourite photographers living and working in our home province, British Columbia. Next up is Grant Harder. See more images and our interview with Grant below.
Interview with Grant Harder
Booooooom: What was your first experience with photography? Can you remember the first significant image you took?
Grant Harder: My first experience with photography was with skateboard magazines when I was around 12 years old. Spike Jonze anyone? I can't remember a specific image that I took but I do remember the feeling of getting a roll of film back and seeing that I technique I had been trying had actually worked. Amazing.

"While in Prince Rupert you don't have to go far or wait long to see a bald eagle." 

Booooooom: How would you describe your aesthetic?
Grant Harder: Natural light. Relatable. Sightly romantic maybe? You could argue that most photos contain a bit of a lie, or at least not the full truth, by what a frame is choosing to crop out. But dammit, I love it when someone describes my work as honest. Is honest an aesthetic?
Booooooom: I've never thought about it like that but I think it is! How do you balance taking photos for a living and keeping the love alive? How do you keep things fun and stay inspired?
Grant Harder: My job is truly amazing. The subject matter is diverse so every shoot is quite different and challenging. I love photography as much today as I ever have. The learning curve is never ending which keeps things interesting and on your toes. The competition is daunting, if you let it be. I feel I'm at my best when I'm paying less attention to what others are doing. There's a fine line between being inspired and being distracted.

"There are so many variables on a shoot like this but weather is the main concern, always. I hadn't planned to shoot paddling on Nimpo Lake because the weather wasn't supposed to be great and we had a to catch a float plane, but when you wake up and this is happening right outside your cabin door you get someone in a canoe as soon as possible."


"Leah walking rugged coastline near Masset on Haida Gwaii." 


"With the sun setting after 10pm the mid June days are long up north. This was shot at the end of a long, long day on Haida Gwaii at a lookout point called Tow Hill."


"Oban, float plane pilot, dropping us off on Ptarmigan Lake in the West Chilcotin."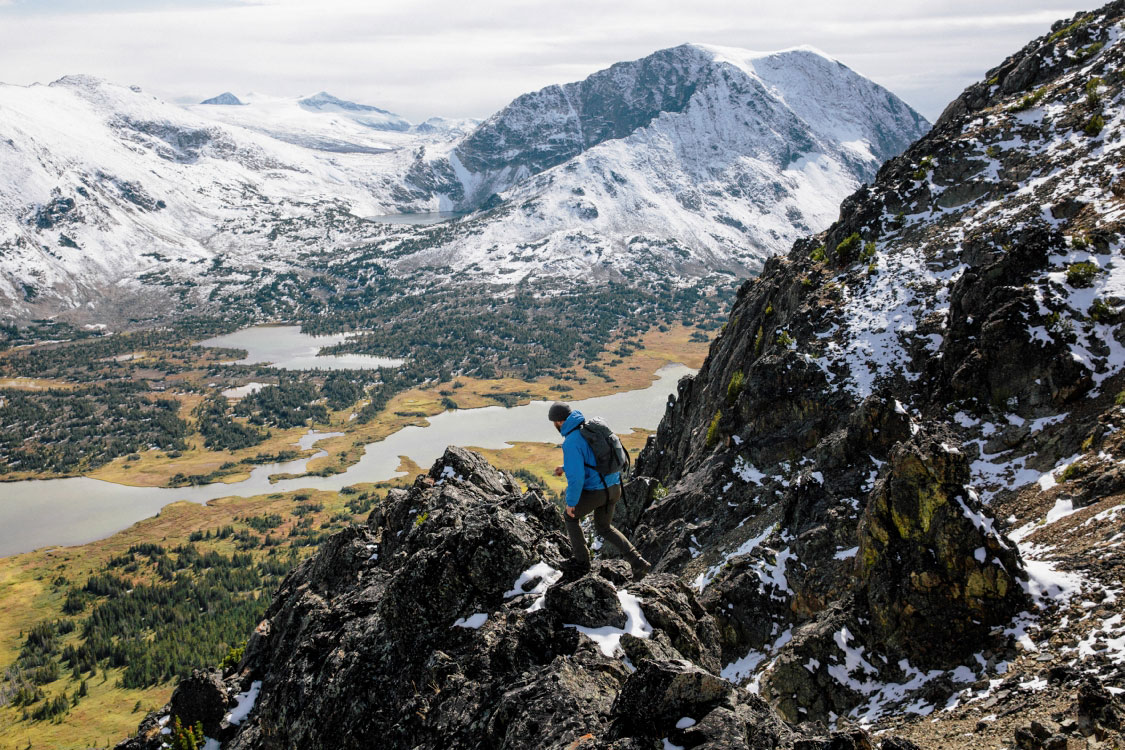 "We took a float plane from Nimpo Lake to Fish Lake, which you can see in the valley bottom of the image. This was supposed to be a summer shoot but as you can see we had a little snow to deal with."


"The night previous to this photo we set up camp during a terrible storm. As we were setting up camp in the dark the wind took my mattress down the side of a cliff, which I wasn't able to retrieve until the next day. We had a broken tent pole. The rain and wind were so strong on the tent that I hardly slept. And then we woke up to this light, in Junction Sheep Range Provincial Park, and everything turned out just fine." 

Booooooom: What camera are you having the most fun shooting with these days?
Grant Harder: I have a little Olympus point and shoot film camera that I really like using. It's refreshing to just point and shoot and then not develop the film for a few weeks. Sometimes there are a couple of nice surprises on a roll that I've forgotten all about.
Booooooom: Where's your favourite place to explore in British Columbia? Maybe you have a lake or a camping spot to recommend?
Grant Harder: The Chilcotin. From Vancouver drive north to Williams Lake and hang a left. Zig zag your way by car, canoe, floatplane and on foot all the way to to Bella Coola. It's incredible.

"Marlin, my trusty road trip companion, while traveling through the Chilcotin."


"The Chilcotin River meanders through a wonderful place called Farwell Canyon, just west of Williams Lake. Think hoodoos, sage and cacti."


"Having a willing subject at 6am is essential in remote locations. Marlin was essentially my assistant, talent, bunk mate, co-pilot, co-cook and friend for the duration of this shoot in the Chilcotins. This is Ptarmigan Lake, a short float plane hop from Nimpo Lake." 


"We searched and searched for interesting vantage points of Okanagan Lake. This is along the Naramata Bench between Penticton and Naramata." 


"Hiking through the hoodoos and canyons near Penticton. This is literally right off the side of the highway from Okanagan Lake." 

Booooooom: Who are some other photographers in BC that are inspiring you these days?
Grant Harder: Some of my friends are the most inspiring to me- Andrew Querner, Kari Medig, Kamil Bialous, Alana Paterson, Vishal Marapon, Jennilee Marigomen…
Booooooom: Is there a 'Pacific Northwest' aesthetic? Beyond the evergreens and all that, is there something else, a spirit perhaps, that links the work of photographers from around here?
Grant Harder: I'd say the quality of light is unique to this area and the use of natural light is pretty common with photographers in the PNW. We definitely don't have sun like California. The shadows are deep, deep, deep. I love it, except for when I don't, like right now while storms are rolling in and shoots are getting postponed. Living in this area does force you to work with the light available and this helps dictate the aesthetic.

"We had a great tip from a local to check out Dennis Lake, near Smithers. This view is of the backside of Hudson Bay Mountain." 

"A Smithers local tipped us off to this great swimming hole just west of town."


"Salmon Glacier is 38 kms from Stewart, BC. To get there you actually need to leave BC and drive through a section of Alaska and then drive back into BC, all on gravel roads. At the viewpoint of Salmon Glacier there was a guy selling DVD's, which seemed pretty bizarre and amusing considering we were the only people there."


"I've seen many outhouses in my time. This one at Ptarmigan Lake is the finest yet." 

Booooooom: What's the most recent thing you learned about yourself? Could be photo related, but doesn't have to be.
Grant Harder: Well, my wife and I just had our first child, a girl. Having a child really puts things in perspective. When I get in a tough headspace with work or whatever all I have to do is look into my daughters eyes and there isn't anything that is as important as her. I've recently had to pass up some amazing travel jobs because of my family and I'm completely ok with this.
Booooooom: Where is somewhere in BC you'd like to shoot but haven't yet?
Grant Harder: Definitely Mt. Edziza Provincial Park and the Spatsizi Plateau.
Booooooom: What things are you working on now?
Grant Harder: I'm working on being a good father and husband. Photo wise I've got a couple of interesting portraits coming up, some tourism related shooting in Vancouver and Whistler and shooting an Arthur Erickson designed house. Sweet!

"A horse at the Terra Nostra Guest Ranch in the Chilcotin, 3.5 hours west of Williams Lake."

Follow Destination BC on Instagram