A charming series of paintings by Brooklyn-based artist Fumiha Tanaka. See more images (and words) from "Of Forest…" below.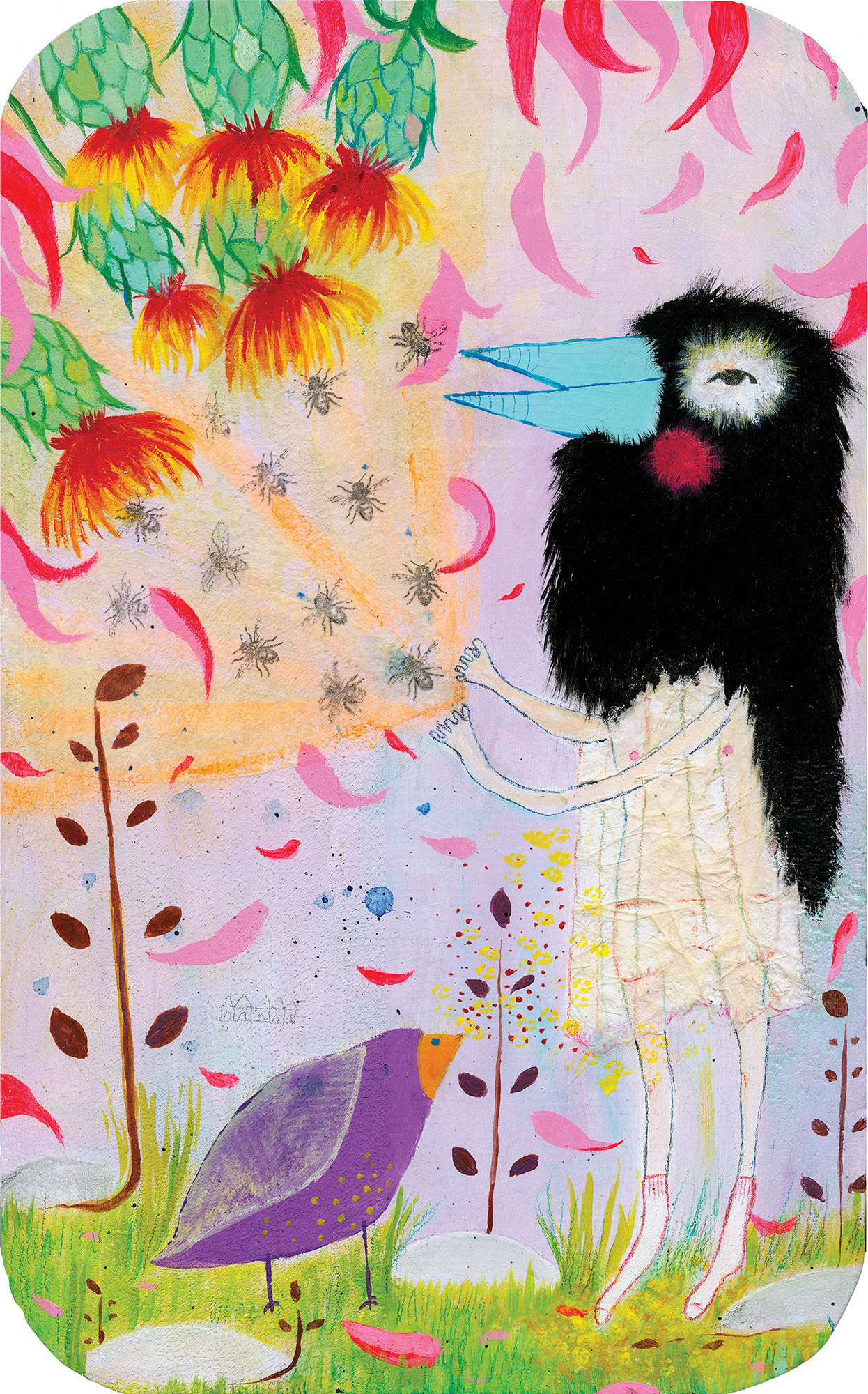 "Bee Farm"
How many bees do you release a day?
Just the right amount for everyone.

"Disco"
Disco Disco
Zuzu cha cha
Zu chaka
It's the disco in the forest
Dance Dance
Dance Dance
Till you will find the mate
"This is the Emperor"
Emperor, emperor
Protecting
Each one of existing creatures
"This is the empress"
She is fair
She won't judge
She sits right there and listen
Overseeing the life of fairness
"Water Pixy"
Water pixy
On the daily walk
Passing by
The most beautiful goldfish
And fell in love
"Floating Down the River"
It's a long journey
Delivering precious plants
I love it so
We can talk long story
"Guard"
It's alright
Emergency of cactus disease
It's alright
I'll protect you with all my life
"Harvest"
Success of the Fish plant
It has taken very long days
It is not easy this fish plant
You need perfect everything
Right current
Right lights
Right bubbles
Right amebas
And most importantly
The right love
"Hashigo"
Up up and all the way
You wouldn't know
What is there
But I know one thing
It's nothing but paradise

"Neighbor"
Greetings
I am your neighbor
I brought you a flower
May I come in?
"Packing"
On board to the tree rocket
Don't forget to pack your favorite things
So long everyone
We are off to another dimension
"Patrol"
Through the vine
Through the valley
Finding a home for a lost child
Get him home before it's dark
Get him home before it's eaten
"Root"
Finding own roots
In between the roots
There is a whole another world beneath the tree
No matter how far you follow them down
There are no ends to it
"Trio"
Hop and hoop
Once again
We the trio
Save the life
Is the flower for bird
Or bird for flower?
"Wind Blow"
Left and right
Up and down
It's the windy windy day
Hold on tight
You might blow away to
No where's land
"Century Flower"
Let's meet again
When the Century Plant puts its big flowers.
Let's exchange the petals
Don't miss the chance
Because it only blooms once a century