Not too long ago I shared a clip to our Secret Email Club of a guy skillfully painting a windshield on a used car lot asking if anyone could ID him. Several of our resourceful readers pointed me to John Oliver of @oliversigns and I had the chance to ask him a few questions and edit together a little montage of my favourite clips below.


Jeff Hamada: Where are you from? Can you paint us a little picture of young John Oliver?
John Oliver: I'm from Cleveland Ohio. Always liked art and drawing growing up, "A's" in art class! Ended up in a vocational commercial art class offered at my high school. My teacher Mr. Page was also a sign painter and would do his own projects while we we're working on our projects. He's the one that got me thinking about signs and lettering.
Graffiti was also really popular when I was in high school and my friends and I would fill up spiral notebooks of it, all trying to have the best design. By the end of my senior year I was pretty much producing any banner or sign that the high school asked for as projects in my art class.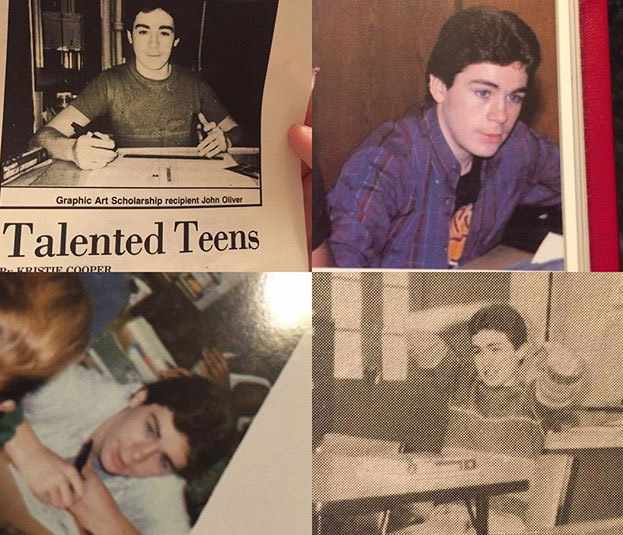 Jeff Hamada: Were you always into writing letters? When did you first pick up a brush?
John Oliver: First time was in high school, but I didn't get paid to do it until I worked at a shop that produced paper grocery signs on a large scale. Mr. Page got me that job during high school; I was hired as a silkscreener. Part of my job was to draw out and hand cut the paper stencils for printing, I really learned a lot about how letters were constructed, and layout and spacing skills. I worked there for about 8 years watching the sign painters do the "knock outs" when one of the stores we did signs for had different items or prices that would be to expensive to make silkscreens for.
I took an interest in doing that myself and started hanging out with them after work, and was given a section of the classifieds, a brush, and paint. They showed me the basic strokes that made up the letters and said go home and do these a few thousand times before you try to write any words, so that's what I did. At the end of my time at that job I was one of two sign-painters employed there.
Jeff Hamada: How long was it before you felt you had the hang of it?
John Oliver: I really can't put a time stamp on it, there were just so many signs to do, you just knocked them out. Some good, some bad, and you tried to correct anything you noticed wrong on the last one.
Jeff Hamada: What's going through your mind while you're painting? I notice you don't listen to headphones or anything.
John Oliver: It's pretty much automatic now — I really don't think about what I'm painting once I start. I do have headphones for music and phone calls so I can keep working while talking on the phone.
Jeff Hamada: I love the image of you just casually doing other things and knocking out these perfect letters at the same time. If any of our readers are interested in getting into sign painting what would be one piece of advice you'd give them?
John Oliver: Practice a lot! It's only gonna come from repetition of the basics. You have the advantage of the Internet now and can watch countless videos of people doing the craft. Take advantage of that! If I had it when I was learning who knows how much better I'd be right now!