Heads up for all you aspiring designers out there! Skillshare has just released a brand new Masterclass with acclaimed illustrator/letterer Jessica Hische and I can honestly say it's one of the best classes I've taken (on any platform). It's right up there with Aaron Draplin's Customizing Type class (I still use tricks I learned in that one all the time).
Full disclosure: Skillshare did not pay me to write this post, I just wanted to share with you what I found to be an extremely helpful resource. Having said that, if after reading this you decide to sign up through a special link in this post it will support Booooooom, but there is zero pressure to do so. I've taken many classes on their website and definitely see it as worthwhile resource, so I'd recommend it even if you don't use our link! They're offering a (new) deal that gets you 2 months of Skillshare Premium for free, as of February 1st!
What makes this such a great class is that Jessica doesn't just talk about the experience of working with a client in broad strokes, she fully re-creates a logo that she previously created for a real client—from start to finish. Other classes might skip over the parts where the instructor is clicking around with the pen tool and making all these micro-adjustments to curves but this is where I actually learned the most!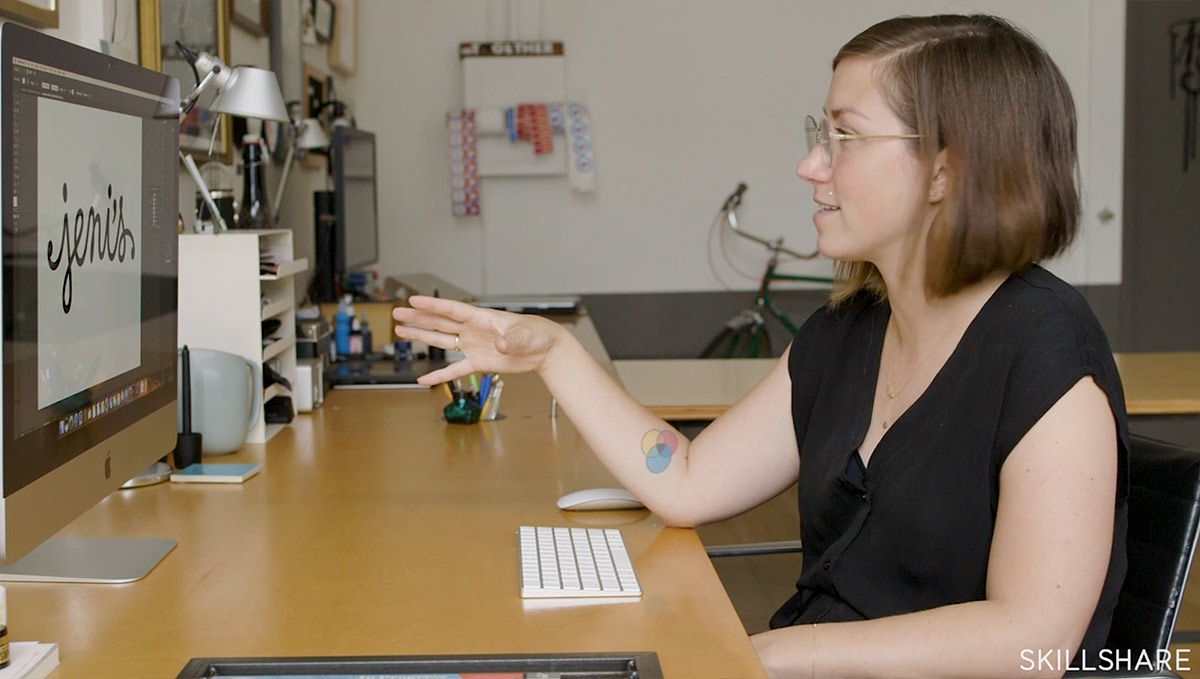 Here's a quick summary and a few of my favourite tips:
In the first half of the class Jessica walks you through two helpful checklists, one for understanding a project as a whole, and one specific to analyzing the letterforms. Both of these can be used when designing something from scratch or when refreshing an existing design and ideally the more you use them the quicker they'll become part of your creative intuition.
Things to consider:
What's the largest and smallest the logo will ever be seen? Is the logo effective even without a lot of white space around it?
Tip:
Say the words out loud and use volume to determine their size. How loud/large should "the" be in the logo?
In the middle, she starts to put the checklist into practice and walks through brand refreshes she did for companies like Mailchimp and RetailMeNot. Now it becomes clear how the checklist helps to analyze the problematic areas of a design.
Then for the last half of the class we start looking at the main case study, Jessica's work on a logo for Jeni's Ice Cream. She walks through each step of the process, from identifying the issues with their existing logo (using the checklist) and sketching a new version, to vectorizing and adjusting the new design in Illustrator.
Things to consider:
Are you showing your client too few or too many options? 3-5 is best. You want them to know there was sufficient exploration but don't want to give them "paralysis of choice".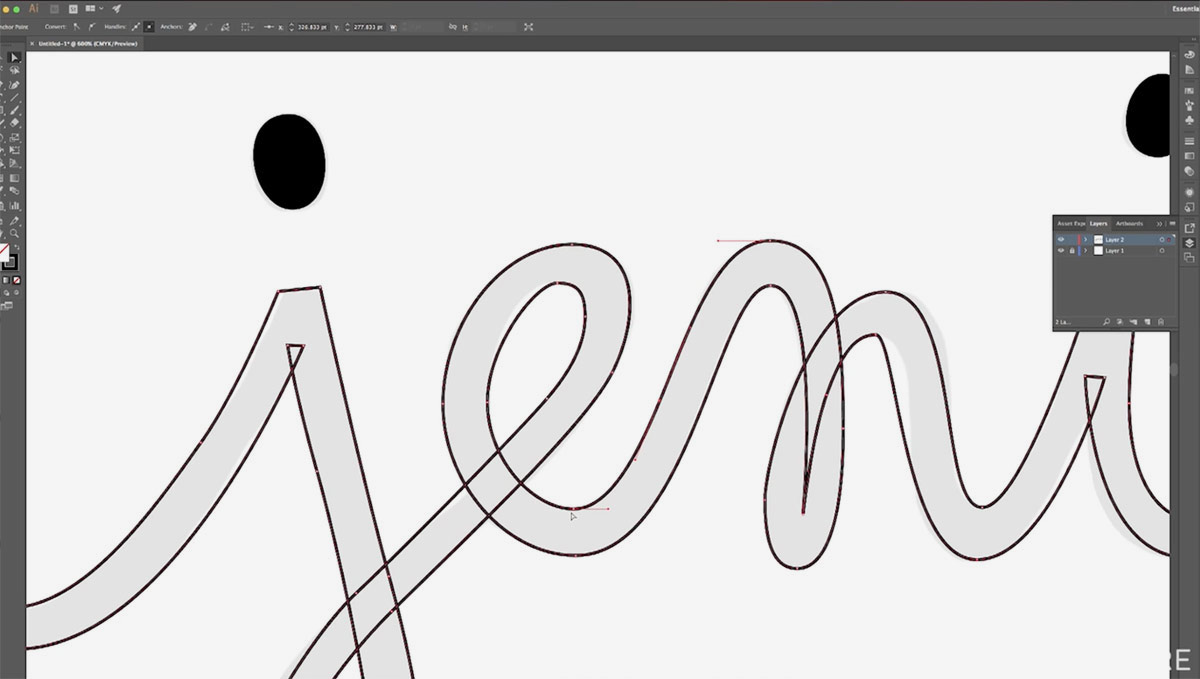 Pen Tool-related Tips:
Switch the pen tool hotkey from "p" to "s" which is used for scale by default but used a lot less. This way you can toggle between "s" and "a" (the direct select hotkey) without constantly moving across the keyboard.
Always use the minimum amount of points as possible.
Create little "carrots" that will help you make adjustments to the thickness and shape of your letters a lot more quickly.You can see a "carrot" on the j in the image above. This one is tricky to explain without seeing the video but it is a life-changing technique that will save you hours of work.
These are just few of the things covered. If you're interested in designing logos, logotypes or anything to do with lettering, this class is filled with essential information. If you're thinking about trying it out and you wanna help support Booooooom at the same time, you can use this special link.
If you come across any other great classes or tutorials or Youtube videos, send me a tweet, I'd love to check them out!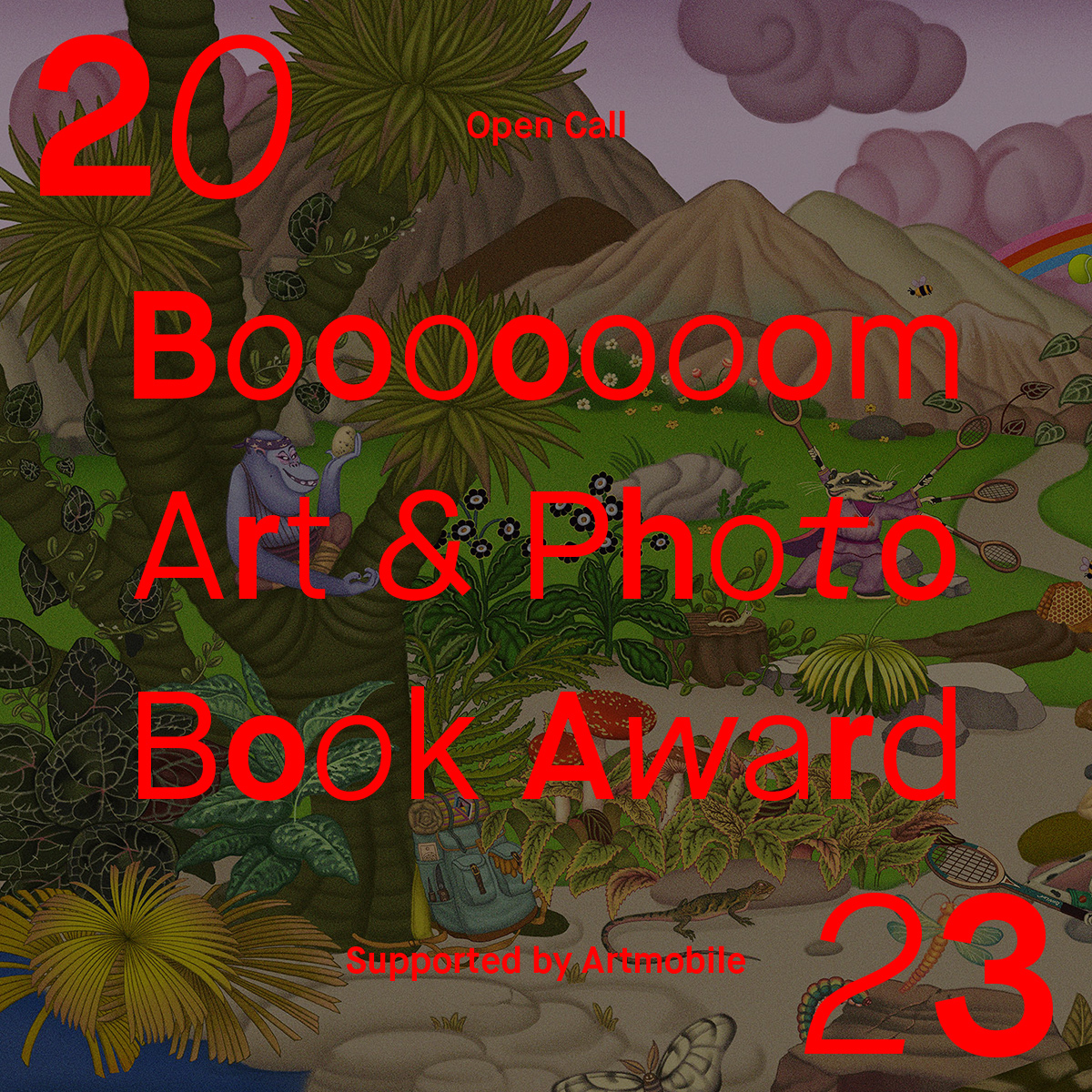 Call to Submit: 2023 Booooooom Art & Photo Book Award
If you have a specific series or a cohesive selection of work that you want to turn into a book, we want to see it.
Learn more
Related Articles