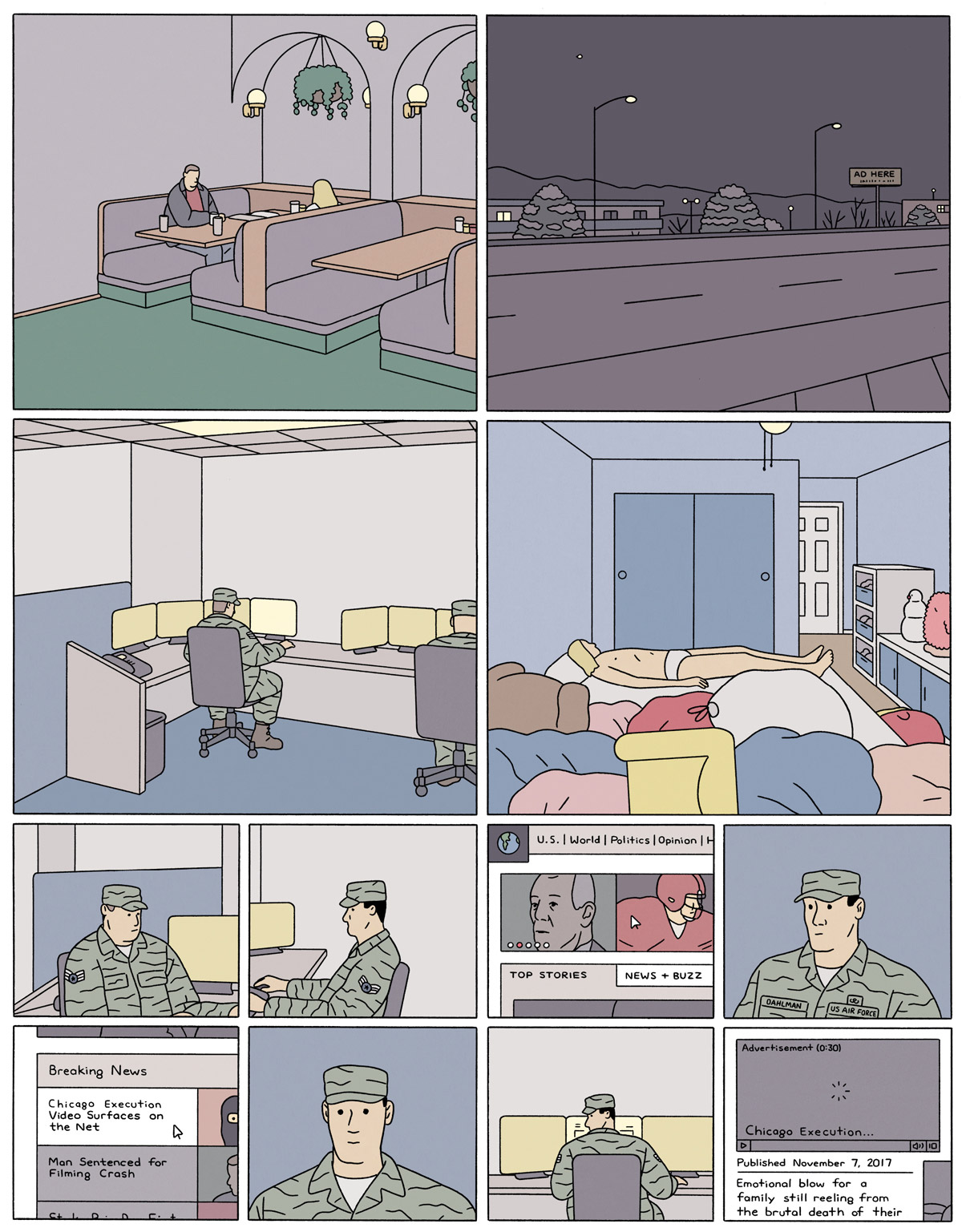 Booooooom: We get a clear sense of your characters day-to-day, especially Calvin Wrobel, as we follow his shifts at work, mental health surveys, and web searches before bed. What's your own daily routine like?
Nick Drnaso: I work infrequently at a job doing menial labor, and most of the remaining time is spent working on comics. On a given day I wake up around 8 AM and work until my fiancee gets home around 8 PM, we have dinner, and then I either work until bed or maybe we will spend time together.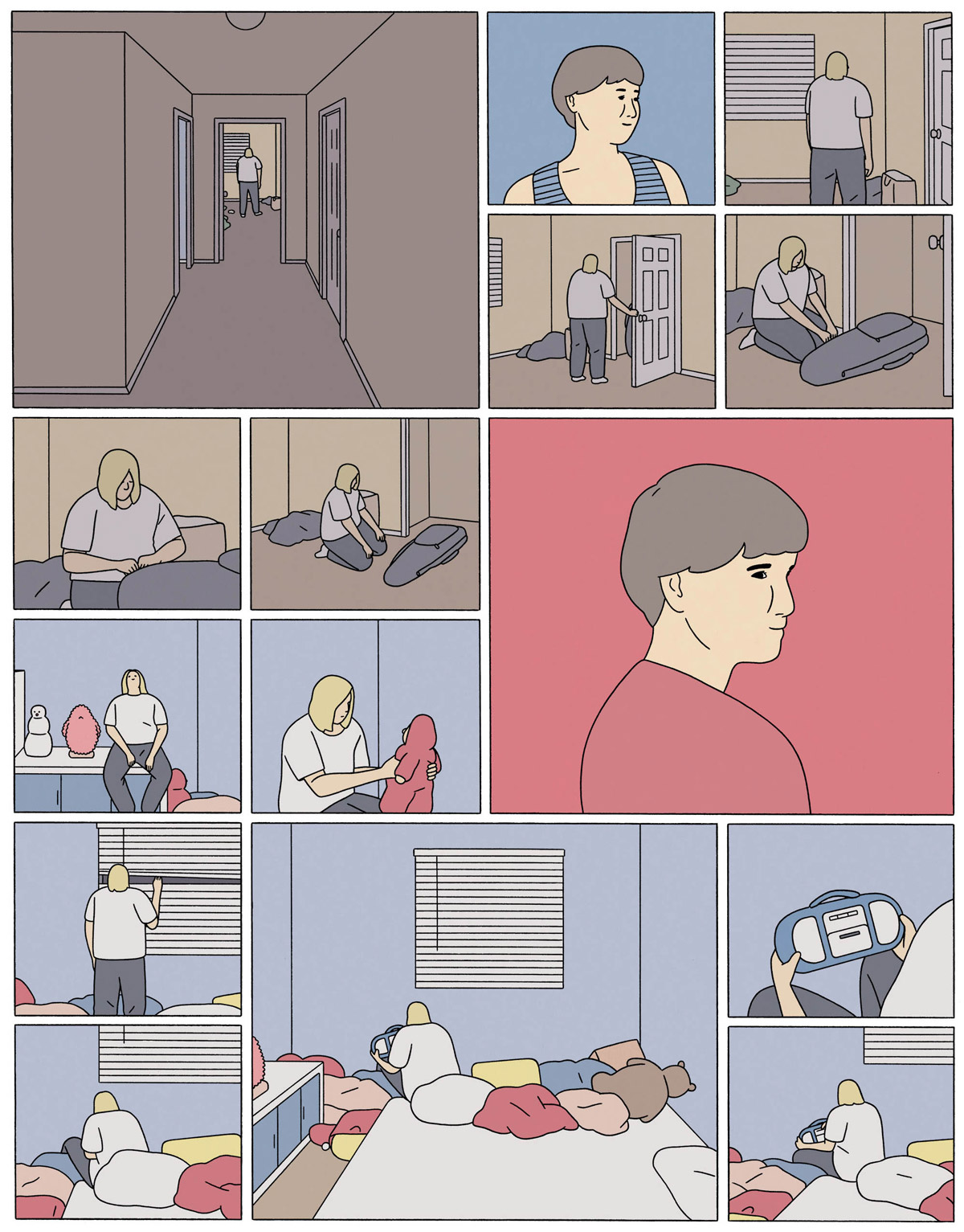 Booooooom: We first featured your work on our site back in 2015 but you've obviously been at this for a lot longer than that. Was there a particular moment when you felt you'd figured things out? Either personal style-wise or even just in terms of format (i.e. comics, long-form narrative etc.)?
Nick Drnaso: It might sound insincerely modest or self-deprecating, but I really don't feel like I've figured out much, even though at the same time I can recognize some kind of progression in what I'm doing. Put as simply as possible, it's just one of those "the more you learn, the less you know" situations. I'm reminded of my own deficiencies and limitations on a daily basis, but I don't mind that feeling of inadequacy at all.
Booooooom: Were there any major differences between Beverly and Sabrina in terms of your approach or how things came about?
Nick Drnaso: I intentionally kept my approach almost exactly the same as I started working on Sabrina, only because I wanted to transition as smoothly as possible into a new project and I didn't feel quite comfortable messing with my routine.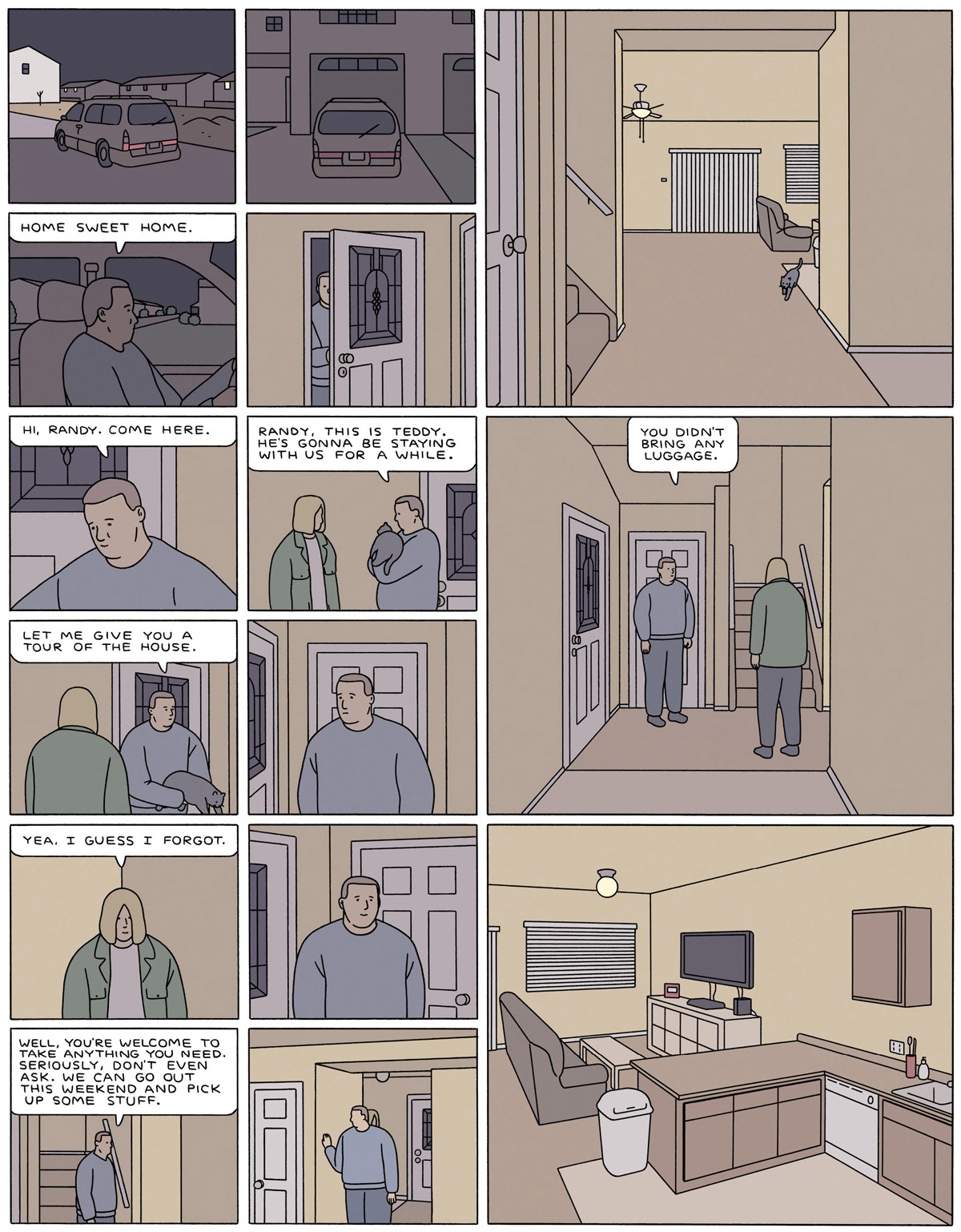 Booooooom: Obviously, the big question is what happened to Sabrina, but what about Randy? Actually a few cats appear throughout the book– from Sabrina's parents' to the ones at the shelter Teddy sees during his search for Randy — are any of these based on your own?
Nick Drnaso: Aw, out of all the grim things in the story, that's the part of the book that made my fiancee the most upset. Randy is one of our three cats, so it was sad to draw that sequence. We're very attached to all of our cats, but Randy is kind of the king of the house. I found him in a raccoon trap at a maintenance job years ago, so to answer your question, in a way, that part of the book is just Randy's origin story before I found him.
The fluffy cat at the beginning of the story is based on our other cat, Olive. It feels natural to put things from my life into the stories. I try to use discretion and not make it too gratuitous, but I also don't fret about it that much either. I think in some way if something is important to me, it will hopefully come through in the story. At the very least, it keeps me invested in what I'm doing.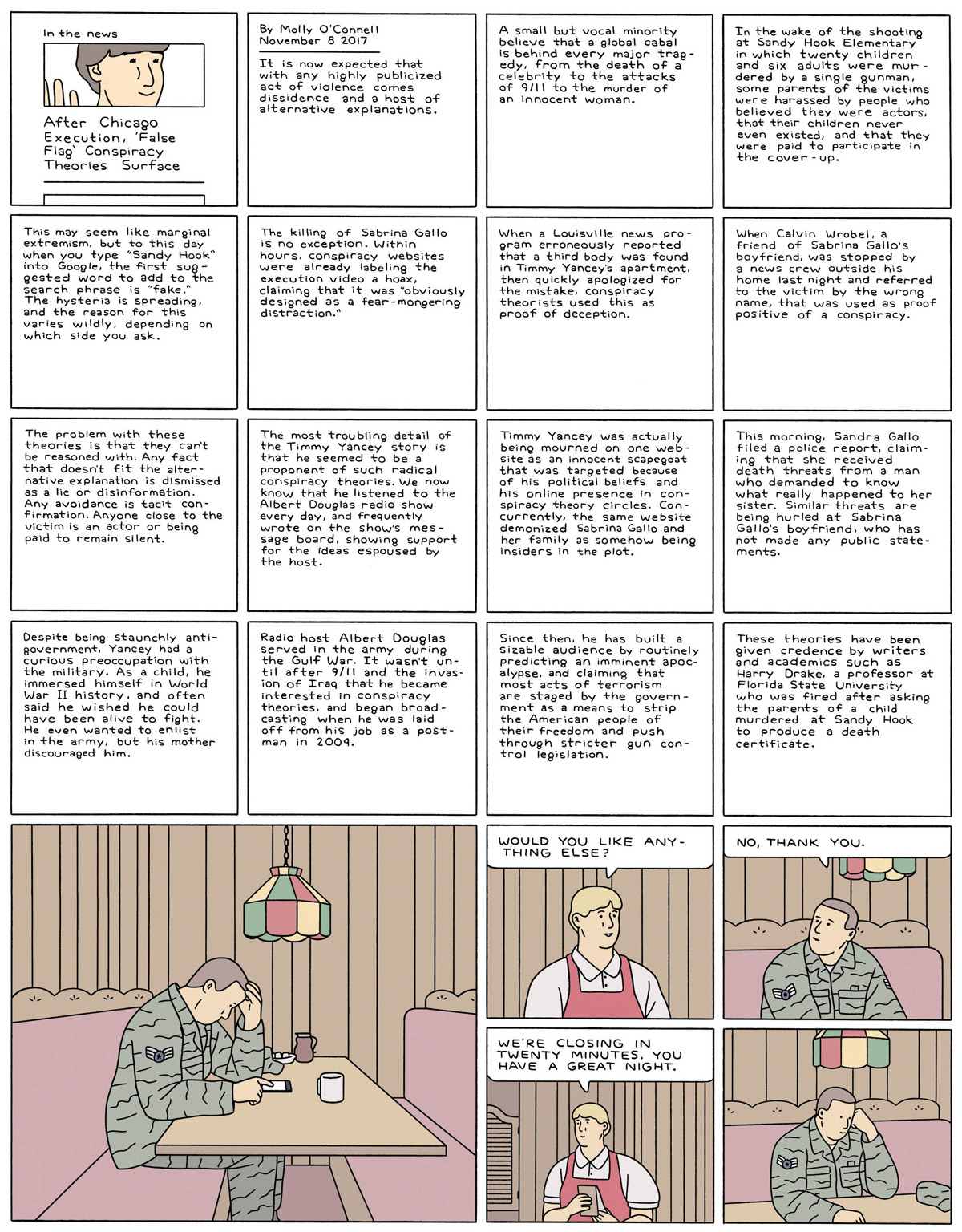 Booooooom: For a graphic novel, there are pages that are unexpectedly and almost predominantly filled with text. Can you speak a bit about that?
Nick Drnaso: I just discovered as I was writing Sabrina that there were sequences in the book that demanded a lot of text (as in many of the news articles and e-mails), and instead of figuring out some way to combine text with images, I preferred to make the text stand alone and uninterrupted. I like the way some of those pages look graphically, and I like the somewhat overbearing and unvarnished nature of a page of text amidst a comic that has a lot of open silence and meandering stillness.
Booooooom: Sabrina addresses issues of paranoia, anxiety and depression which you've been open about on a personal level. Do you find the work itself therapeutic? What are your coping mechanisms when it comes to the overwhelming barrage of social media and fake news?
Nick Drnaso: Working on comics is certainly therapeutic, at times challenging and scary, but overall very enjoyable most of the time. It's not very cathartic to have a book released and available in public, at least for me, unfortunately. That's just something I will have to figure out how to work around as I continue to make books.
I actually don't think I was reacting to social media (which I'm not on) as I was working on this book. The internet was just an unavoidable component of this story when I decided to set it in the present day. I was hoping it would just be the conduit that connects the people in the story, and the story wouldn't necessarily be some kind of comment on the internet. When I try to remember where my mind was at, I was circling around very personal feelings of uncertainty, insecurity, and, most of all, fear and anxiety.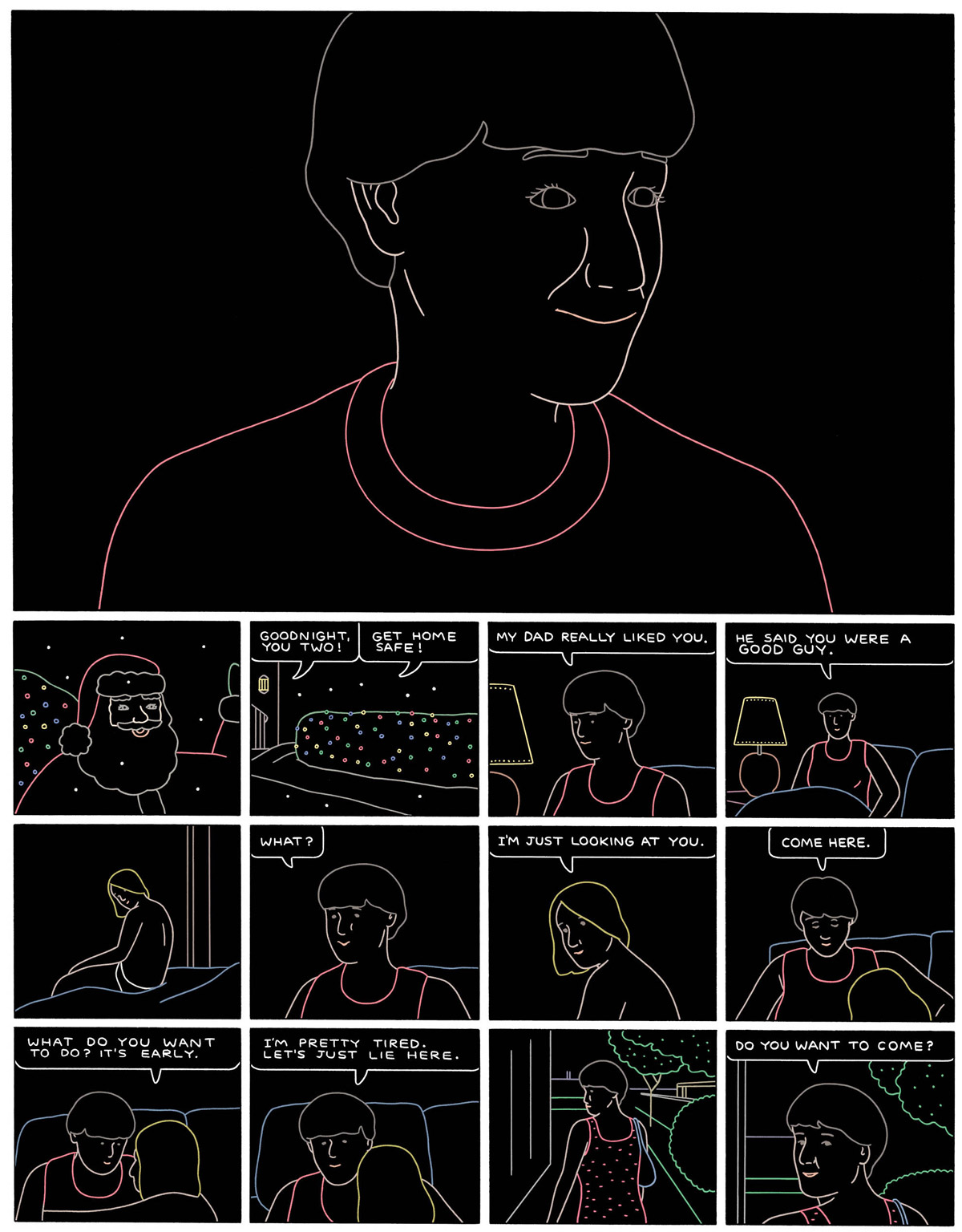 Booooooom: I read that you're heavily influenced by film and television more so than, say, other cartoonists. What have you been watching lately?
Nick Drnaso: Not a whole lot. I haven't owned a TV since I moved out of my parent's house, so our TV- and movie-watching is pretty much restricted to our computer with headphones on. I think the influence of movies and TV shows was more embedded from childhood, whereas a lot of cartoonists I've talked to have grown up infatuated with comics. It didn't enter my life until young-adulthood.
To answer your question, we watched the documentary series Wild Wild Country. I rewatched Tokyo Story, which I hadn't seen since I was in college, and it was even more affecting the second time. I think that story probably becomes more relatable as you get older, since it's all about loss, aging and death. I also watched the documentary Dark Days again, probably for the tenth time in my life. I don't know why I keep coming back to it, but it's one of my favorite movies.
"I like the somewhat overbearing and unvarnished nature of a page of text amidst a comic that has a lot of open silence and meandering stillness."
Booooooom: It's not everyone (or every book) that receives such enthusiastic praise from the likes of Zadie Smith! Which new books or authors would receive a glowing dust jacket blurb from Nick Drnaso?
Nick Drnaso: Oh, I just spent the weekend at a comic convention here in Chicago, and I was bombarded with so much great work by so many cartoonists I feel lucky to be working alongside. They truly don't need my endorsement, but I'll list them here, and I'm sorry if I left anyone out!: Beatrix Urkowitz, Tommi Parrish, Mimi Pond, Fiona Smyth, Lilli Carré, Conor Stechschulte, Gina Wynbrandt, Lane Milburn, David Alvarado, Edie Fake, Jessica Campbell, Richie Pope, Lale Westvind, and that was just one fraction of one convention. It's overwhelming in the best possible sense.
Booooooom: What can we look forward to seeing from you next?
Nick Drnaso: I'm only about ten pages into what will probably be another long book, so it's impossible to say what it will turn into. I'm pretty committed to working on one book in private for a number of years and releasing it all at once, so that's probably what I'll be doing for a while.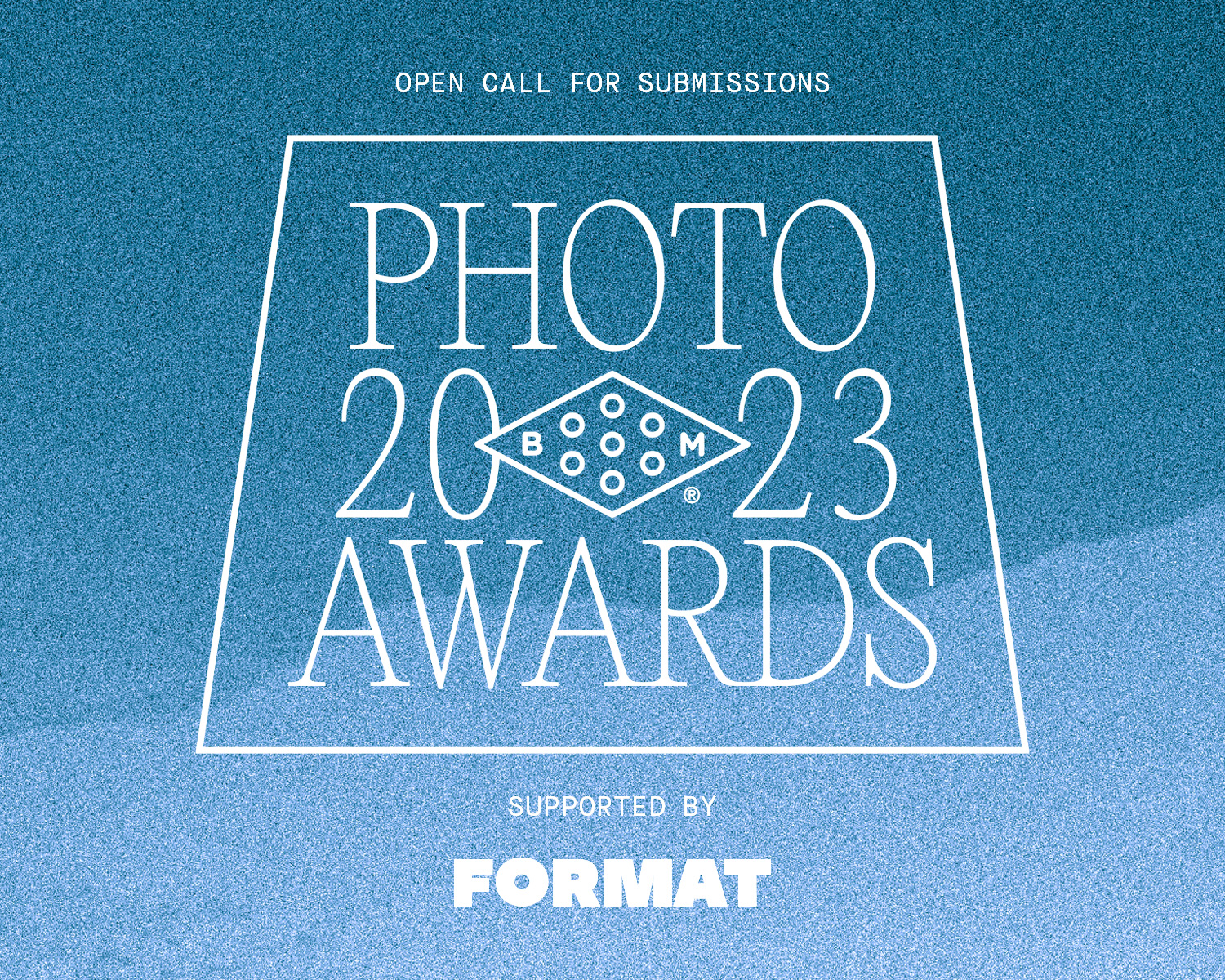 2023 Booooooom Photo Awards
Calling all photographers! The Booooooom Photo Awards are back and open for submissions!
Learn more
Related Articles