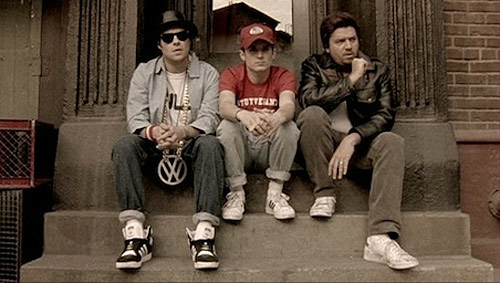 "Fight For Your Right Revisited" is like my wildest fantasy come to life. The short film, written and directed by Adam Yauch, is showing at Sundance and has the most insane cast EVER. For starters Mike D, Ad-Rock, and MCA will be played by two sets of actors: Seth Rogen, Elijah Wood, and Danny McBride as one set, and John C Reilly, Will Ferrell, and Jack Black as another.
The rest of the cast list just might give you a heart attack!
I uploaded the Fight For Your Right (demo version) for you to play really loud while you look up and down this cast list and your mind explodes. Grab it before it disappears.
From what I understand it is a continuation of the original Fight For Your Right music video so it might only be the length of a music video who knows, either way I am dying to see it.
Fight For Your Right Revisited
Cast list (IMDB):