We're joining forces with our friends at Destination BC to spotlight some of our favourite photographers living and working in British Columbia, aka the beautiful province we're lucky to call home. First up is Kari Medig! See more images and our interview with Kari below!
Interview with Kari Medig
Booooooom: Being based in Nelson now, and having grown up in a cabin up north, how would you describe rural British Columbia to someone who has never been?
Kari Medig: Rural British Columbia, to me, holds the heart of BC. Compared to living in an urban centre, there's more of a sense of being embedded in wilderness, which brings out a rawness.
Booooooom: What things have been passed onto you by your parents in terms of photography?
Kari Medig: Curiosity, definitely. Plus, an appreciation of landscapes: moving through them, being still within in them.

"This is a photo I shot of my dad flyfishing on the Bull River between Cranbrook and Fernie in the east Kootenays. The river is famous for fly fishing, so I got him out there early. There was a tonne of fog, but I knew if we waited there would be a good chance that the rising sun would burn it off and we'd get some cool things happening with the light. I think it was the first day after his 70th birthday too, which was a nice time to hang out with him last summer."

Booooooom: I read that your dad would turn the bathroom into a darkroom after photo adventures with the whole family. Can you share a little bit about the places you guys would go and what it was like to see those images appear?
Kari Medig: Yeah, we'd often turn the bathroom into a darkroom to develop black and white film. This would most likely happen in those dark November days after a summer of shooting film out in the woods near our place, or during visits to my grandmother's farm outside of Quesnel.

"This is a picture taken shortly after sunrise on Giant's Head above Summerland, BC in the Okanagan. As is often the case for early morning shoots, it's really tough to find a model at 430am. So not often, but on occasion, I set up the shot I'm after with a tripod, put the camera on interval timer shooting and run into the frame to model for myself, for better or for worse."


"Here my friend Alex is walking up to a little peak high above Wilderness Lake in the north Chilcotin Mountains in central BC. I remember that we scrambled up from the lake the evening before and bivied in the alpine so we could plod to the top of the peak as the sun was rising. Right after this photo we made a morning coffee with a little stove. Not a bad spot for the morning coffee at 6am."

Booooooom: Do you remember the first photo you took that you were really proud of?
Kari Medig: That's a tough one. It was probably not so much the photo itself but the process, which seemed magical. I was around 10, we had set up the darkroom to develop colour paper, which is really tricky temperature-wise. I had taken a photo of a plane at an air show, and was fiddling around with various filters. After several tries, it finally came out right.
Booooooom: Over the years, what's changed for you in the way you approach photography? What are you thinking about now that you didn't before? Or maybe it's something you're not thinking about?
Kari Medig: When I first started getting into photography I was drawn to the scene or the light, usually to do with a landscape or adventure. As I started to learn more about photography and gain inspiration from other photographers, I became more interested in quieter, more subtle content that examines the periphery of topic rather than the obvious subject at its centre. I also noticed a big shift when I started shooting medium format film. Film made me slow down.

"Here's one of Tara and Sam on an early morning in a rural area behind Summerland, BC. I remember spotting this section of road while in the area shooting something else and I remember saving it the back of my head incase I ever need to do a road riding shoot. It turned out to work really well with the long straight strip of road and rows of trees on the hill behind."


This photo was shot really early in the morning one August at Three Bars Ranch outside of Cranbrook BC. The two ranch hands were on a work visa from Australia and their job every morning was to get up before sunrise and round up all of the horses that lived out in the fields overlooking the Rocky Mountains. I got myself ready next to the corral where they stampeded in. Here they were counted before getting ready for the days riding with guests. The early light mixed with the dust from the horses made for one of my favourite images of that morning.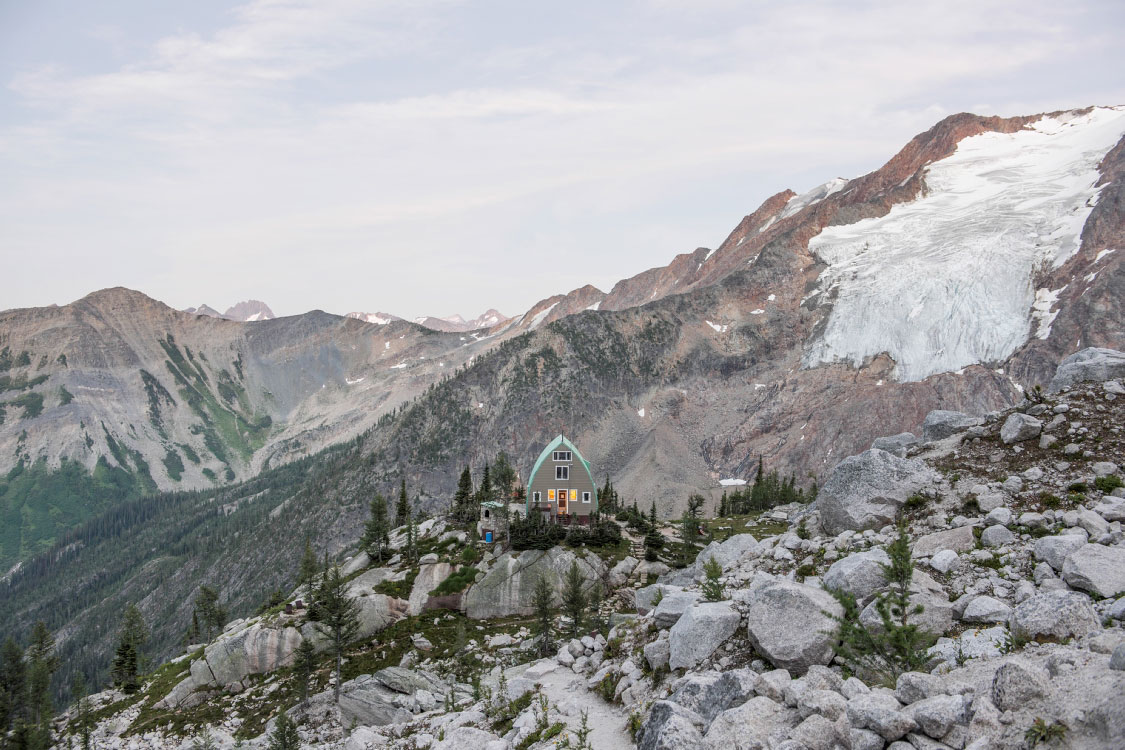 "This photo was made at dusk after doing some shooting in Bugaboos Provincial Park. The park is world famous with climbers and hikers for its giant granite basoliths that protrude from the surrounding glaciers. On the way back from shooting with my partner Emily near one of these peaks, I noticed that the Cain Hut looked really nice in the evening light."


"Here's one from one of my favourite places in BC. It's of Jumbo Pass, on the border of the east and west Kootenays. Normally I'm up in this area in the winter backcountry skiing, but it's also an unparalleled place to watch the alpine larch turn colour in the fall. This one is of my partner Emily who was just taking in the view early one morning high above the pass."

Booooooom: You travel quite a bit, how has traveling changed your perception of your home in Nelson?
Kari Medig: I love stumbling upon the unexpected while travelling, and also love the novelty of new places. But returning to good friends and familiarity makes me appreciate Nelson even more. Lately, I have really been struck by the abundant wilderness that sprawls out our back door, a kind of wild that no longer exists in many parts of the world.
Booooooom: Can you share your favourite lake or camping spot in BC?
Kari Medig: An unnamed alpine lake in the Purcells that is impossibly perfect for camping.
Booooooom: Where is your favorite place to shoot in BC?
Kari Medig: The local ski hill just outside of Nelson: Whitewater. From the cool old lifts, to the eccentric skiers and interesting cars in the parking lot, there are endless quirky scenes. A close second would be the beaches around Tofino, for the same reasons.

"Another image from earlier this summer from the Chilcotins in central BC. After a series of lake hopping with float planes, my friend Alex and I got dropped off at an incredible spot called Nuk Tessli. The group of cabins was built by a British woman years ago and then recently sold to an Israeli mountain climber. We got up early one morning and canoed down the lake to get this image looking west along the lake at the Monarch Mounatins in the Coast Range. I always thought this lake was a bit like an infinity pool with a mountain range on the end."


"This is a picture of Alex Bracewell on his old horse called Jimmy Dean galloping at sunset on his ranch at the end of Tatlayoko Lake in the Chilcotins. I was surprised when Alex told me that Jimmy Dean was nearly 30 years, this wasn't evident in how fast the horse ran. I could tell by how they interacted with each other that they were best friends, probably from years of riding in the surrounding mountains together."

Booooooom: Where is somewhere in BC you'd like to shoot but haven't yet
Kari Medig: I've never been to Atlin, BC and am definitely intrigued.
Booooooom: What things are you working on now?
Kari Medig: It's fall, which means I am starting to feel introspective about the winter. For the last few years I have been working on a book project about skiers around the world and I'm excited to find pockets of time to work on it this season.
Follow Destination BC on Instagram