We recently commissioned one of our members, illustrator Ilya Milstein, to create a graphic for the Vancouver Art Book Fair, and we wanna give you the chance to request a free postcard with Ilya's work on it. Not only that, it will come with an encouraging note written to you by a random stranger who comes by our table at the fair! If you could use some encouragement, you can request some using this form (we'll try to respond to as many requests as we can).
The Vancouver Art Book Fair is taking place Oct 19-21 at Emily Carr University of Art + Design from 11am to 7pm and after it's over we'll mail out all the postcards. If you live around here, come say hi! If you don't live around here keep an eye on our Instagram @booooooom we'll post some updates from there!
It was a pleasure working with Ilya on this project. He nailed the graphic with his first sketch and I just love looking at all the little details in it. Please enjoy this little interview I did with him below!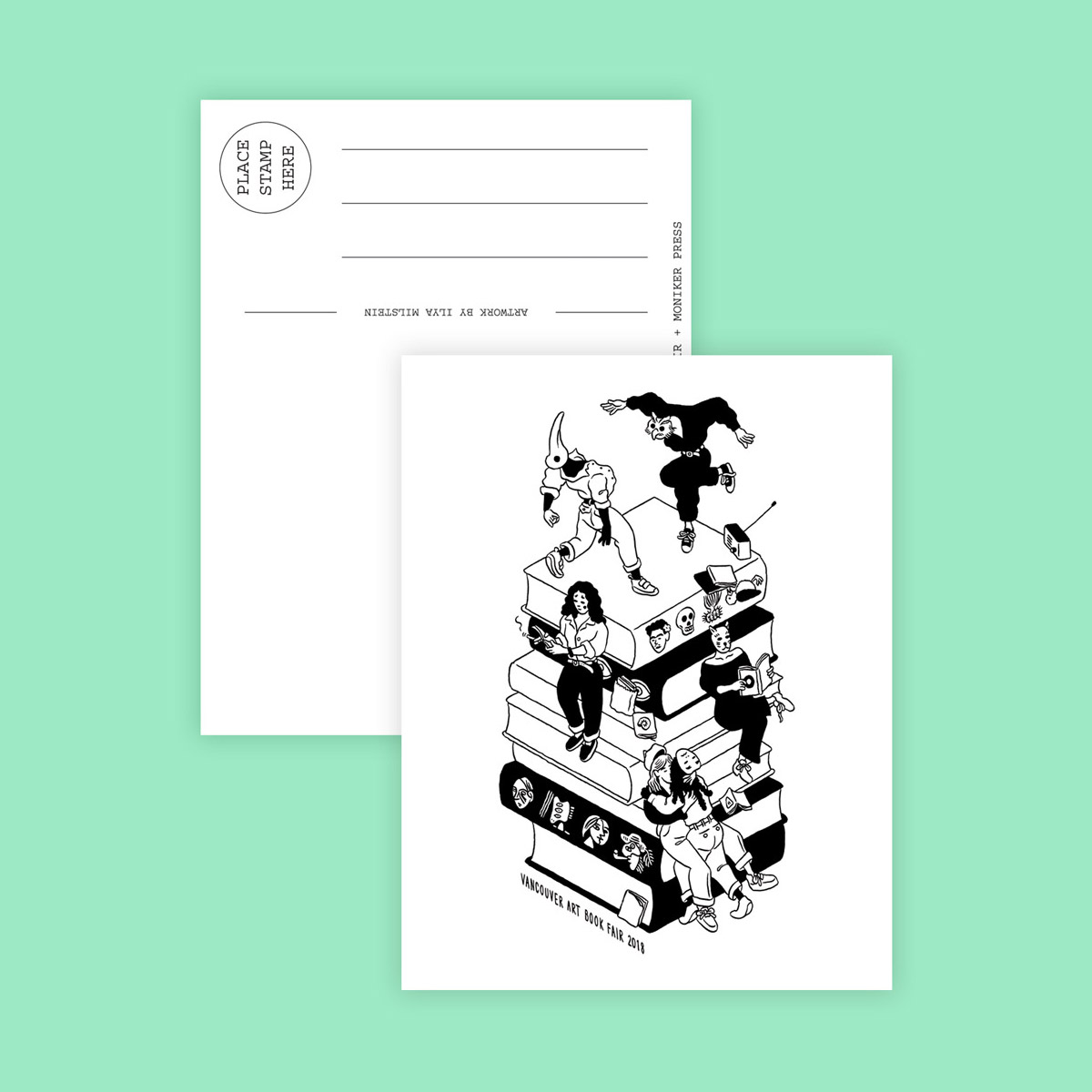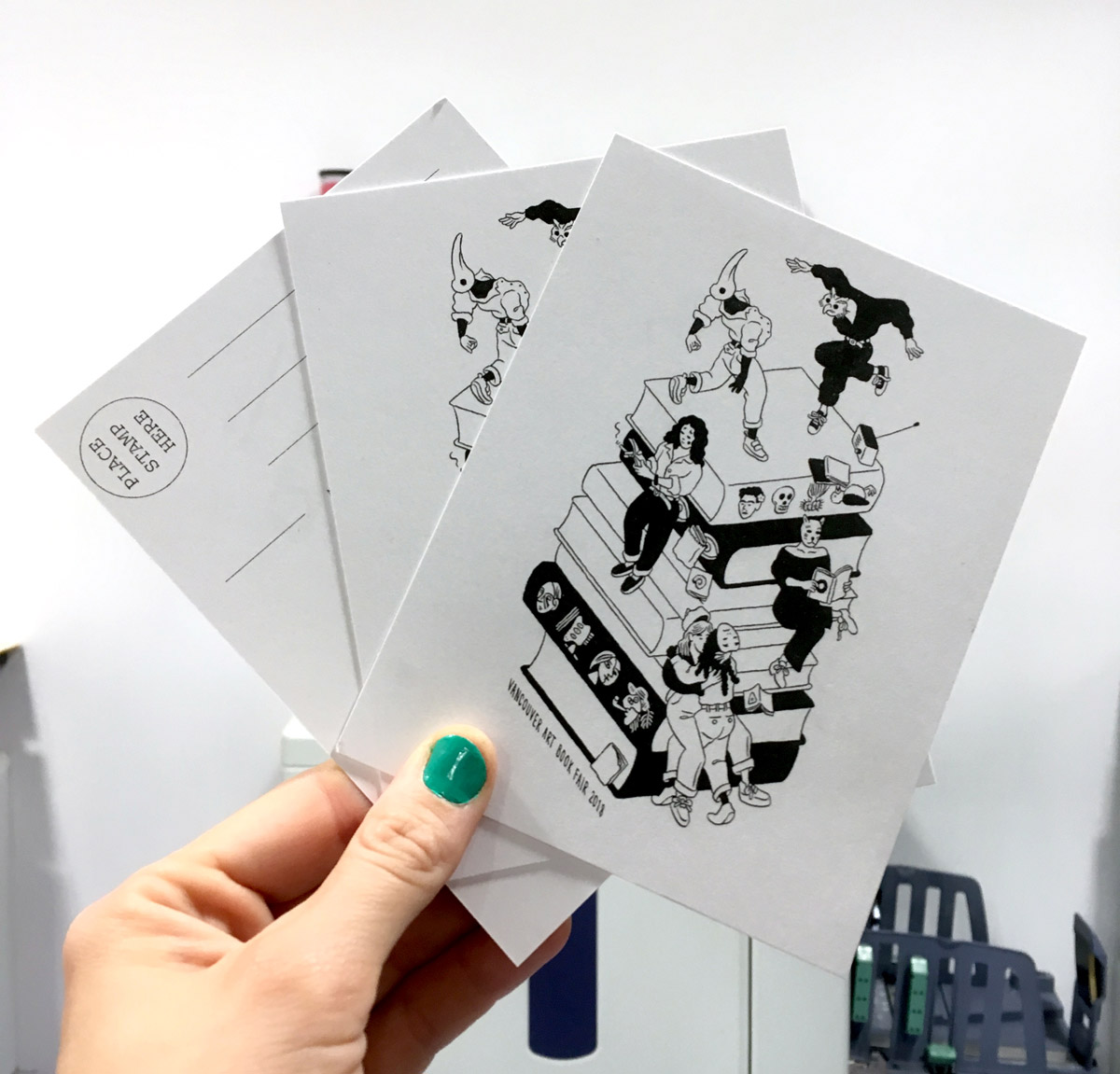 Jeff Hamada: I know you were born in Milan, but grew up in Melbourne, can you paint us a little picture of what life was like for young Ilya Milstein?
Ilya Milstein: My family moved around a lot and travelled a great deal, which was an extraordinary luxury and fed my imagination. I was neither particularly athletic nor sociable, so I became obsessive about my hobbies. Pop culture during my childhood felt so lurid, plastic, fast-paced and vapid, so I was really nostalgic about the past. I liked Mad Magazine, and quickly found through their omnibuses that I preferred the 1950's issues (I was probably the only Melbourne child in the 90's making jokes about George Metesky). That led me down a trail of Harvey Kurtzman, EC, and eventually underground, alternative and early newspaper comics. By age 18 I had drawn around 1000 pages of comics, self-published many zines, and made a few hundred paintings. I was also hugely into old European cinema. Overall I suppose that I was a bit eccentric, but one's youth tends to feel normal as it's experienced.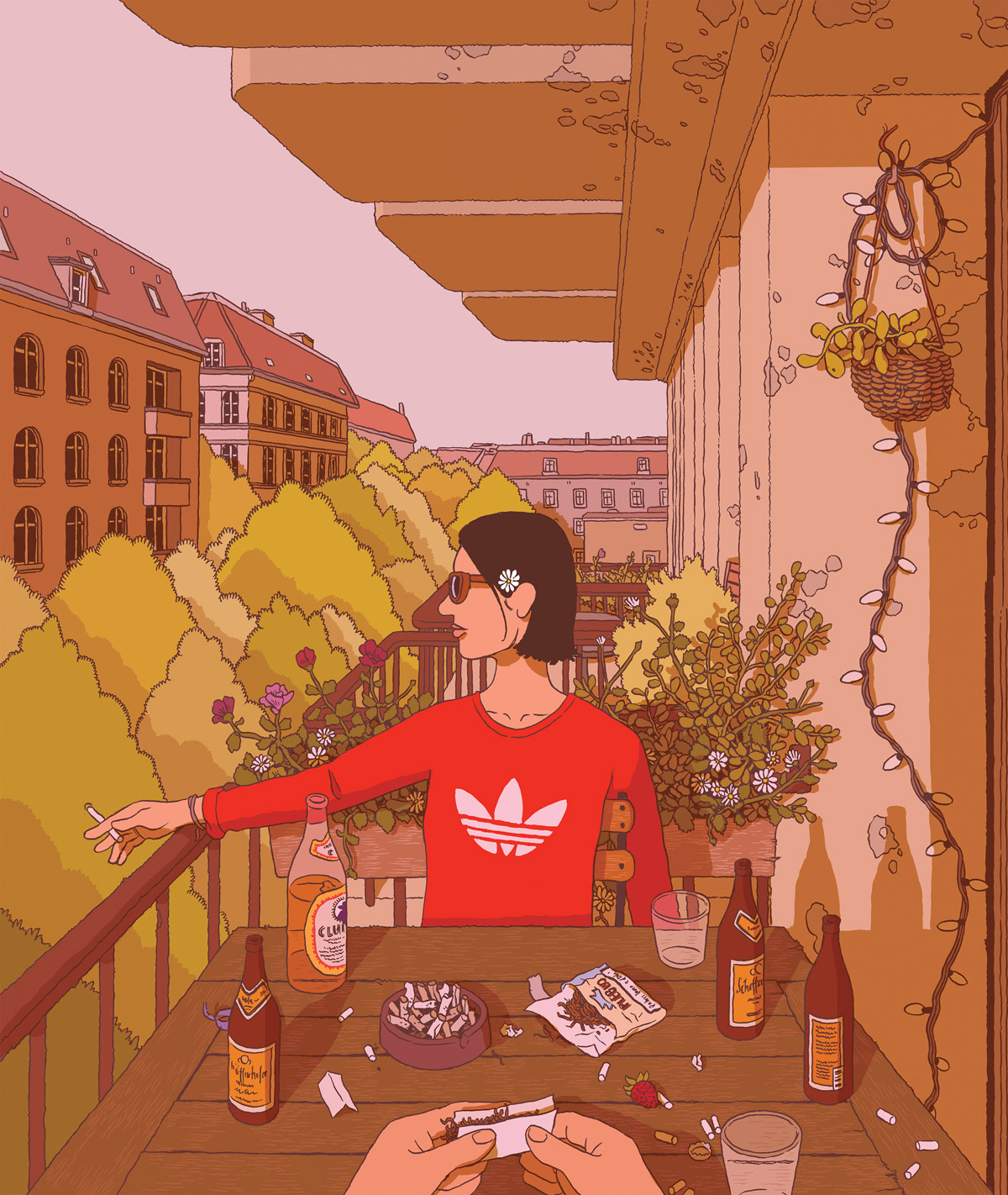 JH: Are there lots of artists and creative people in your family? Were you born into what you're doing now?
IM: My relatives are almost entirely entrepreneurs or scientists, so I developed my interests independently of family tradition. However, I'm of the mind that artists don't have a monopoly on creativity, and believe that my parents are extraordinarily creative people who probably would've been gifted artists had it not been for their slightly conservative upbringings. Perhaps partly because of this they were extremely encouraging of both my sister Anouska's and my self-expression, and it's no coincidence that I'm now an artist and she's a gifted interior designer.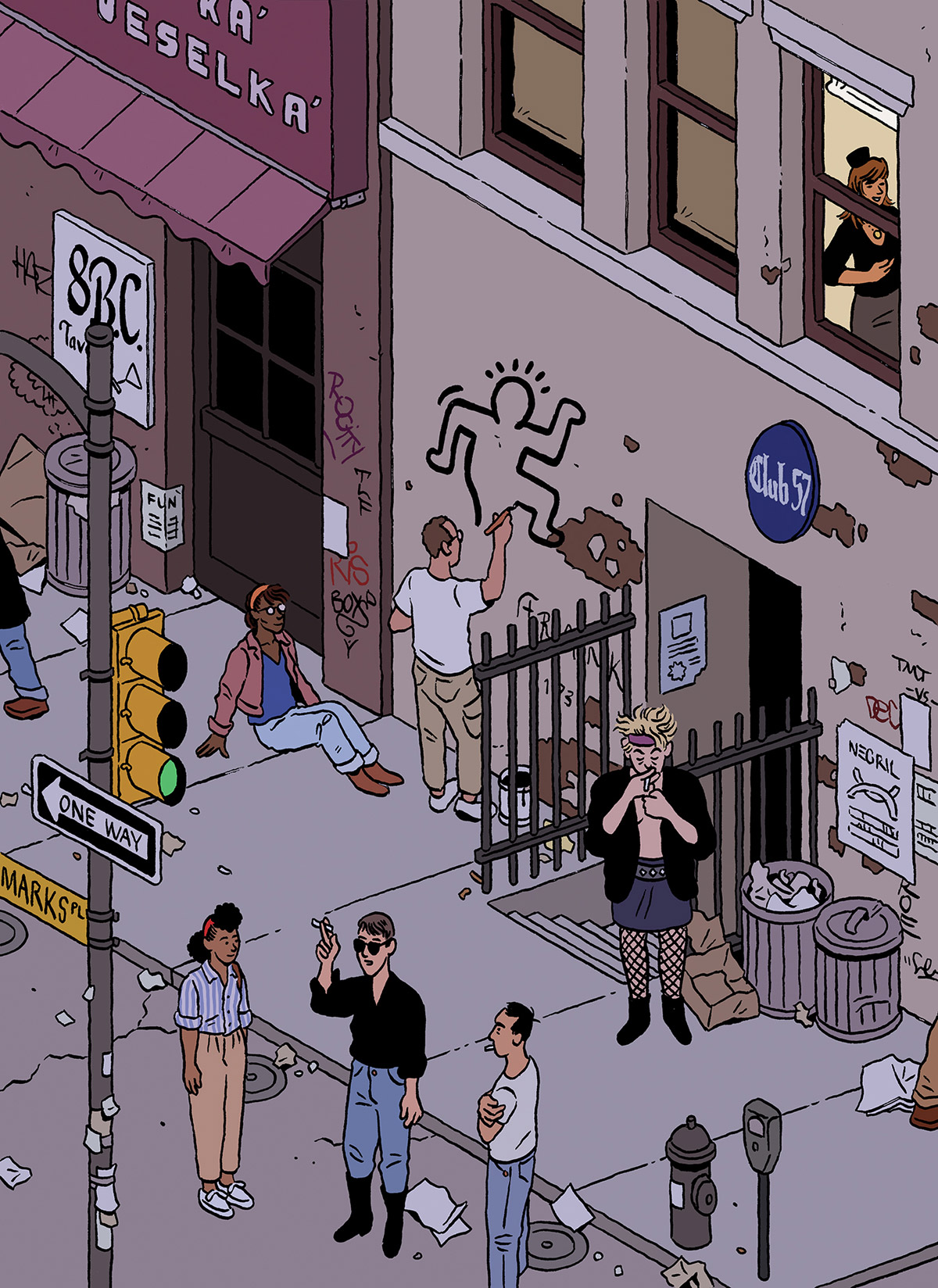 JH: You're living in New York now, have you lived there long enough that it feels like home?
IM: I've only lived here for 18 months, but one of the most exceptional things about the city is how hospitable it's always been to hard-working immigrants. Given its scale and variety it's highly pliable to whatever one's interests and proclivities might be, and given its diversity practically anyone can assimilate. Also, even if New York can sometimes be hard, it always gives you reminders of how wonderful it is.
"Returning to drawing was almost an act of self-acceptance, and a crucial lesson in the importance of being honest to oneself in one's art.
"
JH: How would you describe your visual style, and what was the process like, finding your own voice as an artist?
IM: Nostalgic, detailed, warm, often funny.
Because I spent most of my youth drawing feverishly without calculation, my artistic voice perhaps wasn't "found" inasmuch as it's a natural extension of my being, like one's handwriting style. However, the process of my adult artistic development wasn't totally smooth. Because it took me a long time to realise that illustration could be a career (my professional worldview was parochial owing to a deficit of artists and designers in my young life), I initially studied architecture, dropped out, then studied contemporary sculpture because my only artistic friends were contemporary artists. Although a lot of this work was exhibited in great galleries and museums, I felt totally lost and fraudulent that whole time, and was deeply unhealthy. Returning to drawing was almost an act of self-acceptance, and a crucial lesson in the importance of being honest to oneself in one's art.
I'm glad, incidentally, that there were diversions along my path –- I think that having a few hard knocks (if you can recover from them) is one the best things that can happen to one's professional and personal development.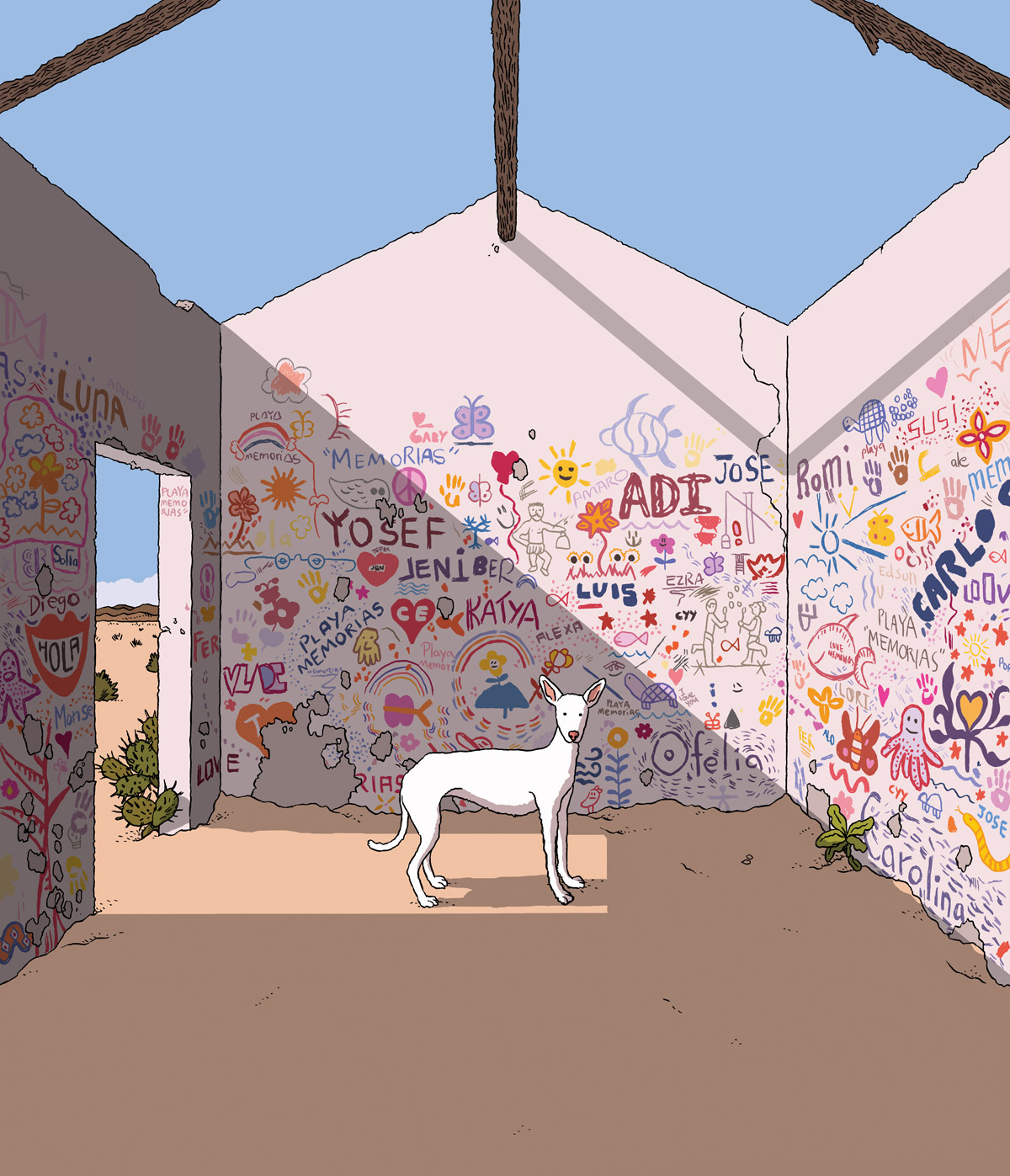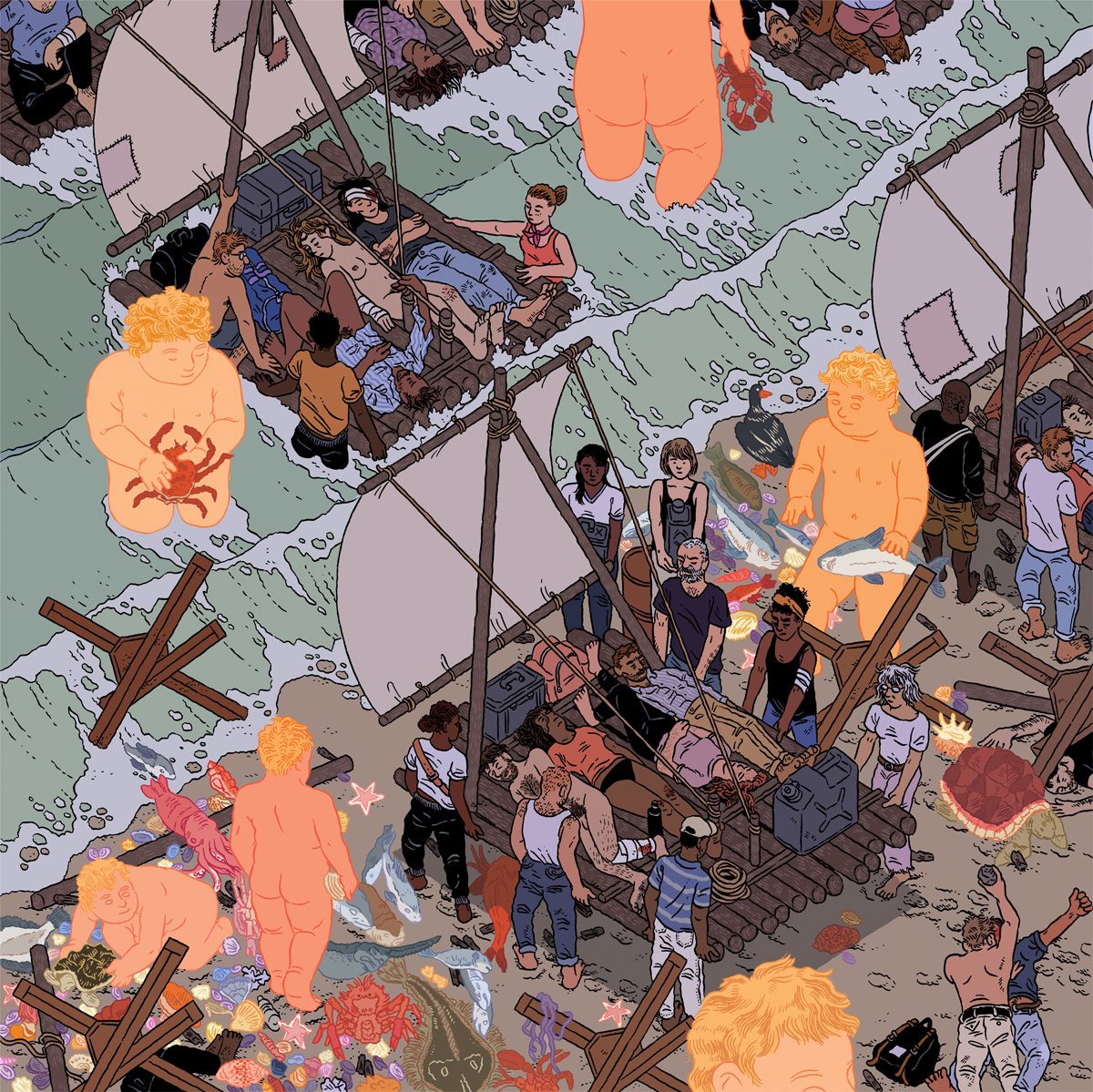 JH: I grew up reading Tintin and you're obviously inspired by cartoonists like Hergé, I'm wondering who's inspiring you these days?
IM: I'm probably more inspired by Hergé's inspirations (like Frank King and Gluyas Williams) and his disciples (like Mark Smeets and Rutu Modan) than Hergé himself. While he's undeniably a technical lodestar to me, I find his depictions of race and gender so problematic that I don't really think about him.
I love the "Ligne Claire" style because I think it reduces figurative image making to its barest constituents — a consistent line and flat, naturalistic colours — while remaining engrossing. The economy of it is magical and timeless. I feel that at best I'm an insignificant part of a lineage that includes Ancient Egyptian painting, Japanese mokuhanga and Aztec codices.
My favourite artist right now is the French cartoonist Yves Chaland, who produced a remarkable body of work in the 1980's. In an implausibly short period of time he produced around ten comic albums, several monthly strips, and became the most in-demand advertising illustrator in France. In 1990 he died in a car crash at the age of 33. His final album F-52, which concerns his recurring character Freddy Lombard (a kind of debauched, scurrilous version of Tintin) might contain the finest illustration and colouring that I've seen in comics. Were it not for his untimely death his potential would've been limitless.
JH: Who should we be following on Instagram?
IM: Despite the benign appearance of the illustration business, it suffers from the same discriminatory issues that plague most industries – there's a gender pay gap and white male illustrators are much more likely to win the kinds of corporate jobs that keep many of us from struggling. As such, I implore anyone interested in innovative and underrepresented illustrative voices to follow @thewomenwhodraw and artists listed on the Cartoonists of Color Database and the Queer Cartoonists Database.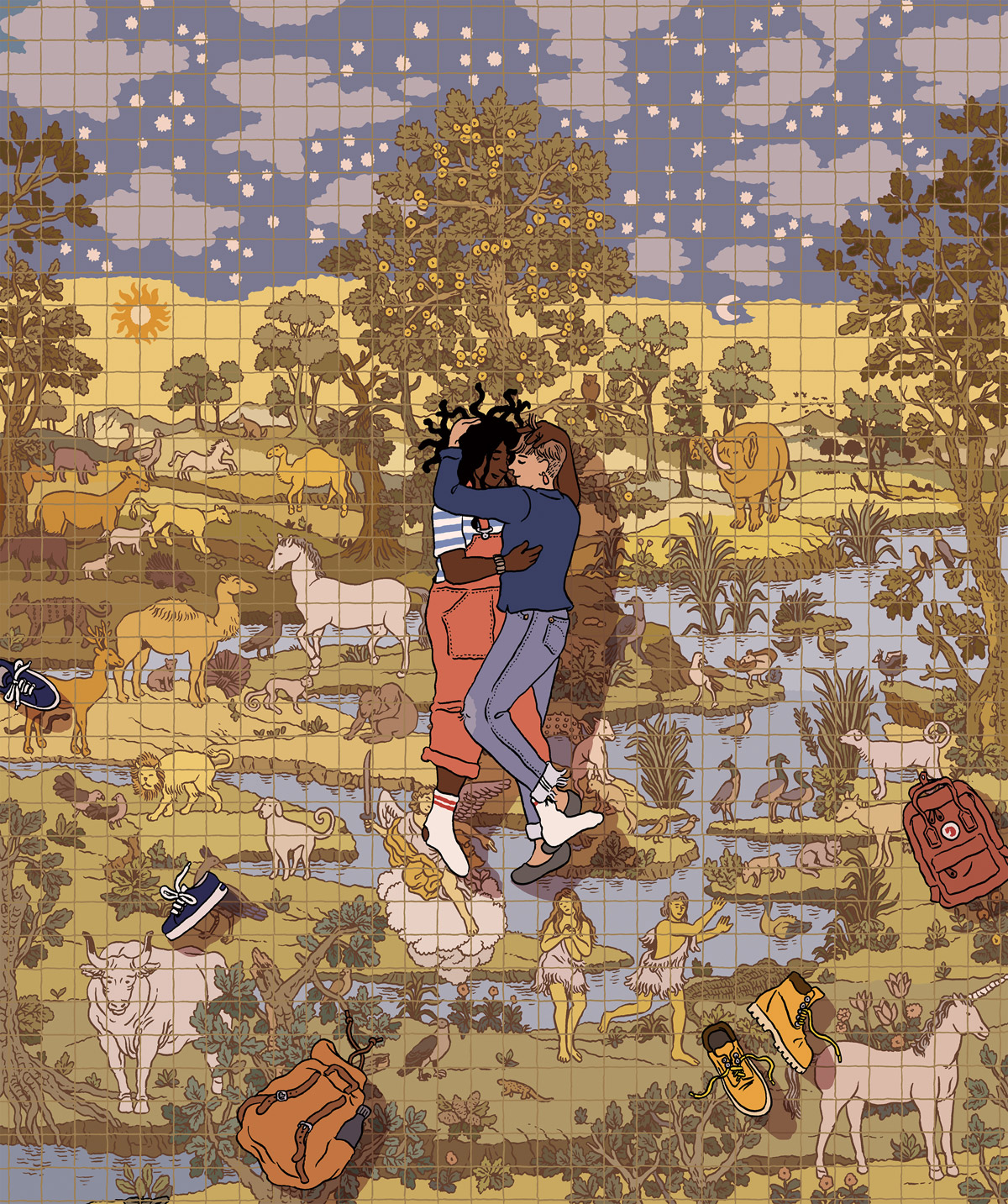 JH: Working with you on this project for the Vancouver Art Book Fair was one of the quickest and easiest projects we've done! Maybe you can say a few words about how you took the little direction I gave — which was just a 'weird assortment of people' and the other idea of animals in a book club — and turned it into the final tote bag design.
IM: Thank you, it was such a delight working on it with you! Because the Vancouver Art Book Fair and its demographic are open-minded I felt comfortable doing something eccentric (while retaining a certain softness), so I conceived the tote in a very fast and intuitive way, similarly to how I work in my slightly demented private sketchbooks.
When sketching I like to begin with an idea and then slightly pervert it, so the animals of your prompt became people wearing animal masks, which then also led to Noh masks. There's something theatrical and bacchanalian about a group of people wearing masks, so I located them in some kind of party set on a pile of enormous art books — thus characters dancing and kissing. Finally, rendering the books realistically seemed to just miniaturise the characters, so I chose to depict the oeuvres of certain artists (Kahlo and Picasso) as icons on the book spines rather than conventional text to give these objects a sense of otherness.
"it's important to remember that nobody does their best work all the time, and learning what you don't like doing is crucial when you're forming a voice. It's better to make bad work than not make work at all."
JH: How has your creative approach has changed over the years?
IM: Turning a hobby into a full-time career necessitates one to professionalize their creative approach. I've really liked doing this — approaching one's work with a business mind can both demystify process and shine lucidity onto what might've previously been quixotic. Furthermore, working as I do with tight deadlines prevents you from being allowed to have creative blocks. You learn to train yourself to think quickly and always find solutions to problems. Sometimes that means that your work isn't as good or inspired as it could be, but it's important to remember that nobody does their best work all the time, and learning what you don't like doing is crucial when you're forming a voice. It's better to make bad work than not make work at all.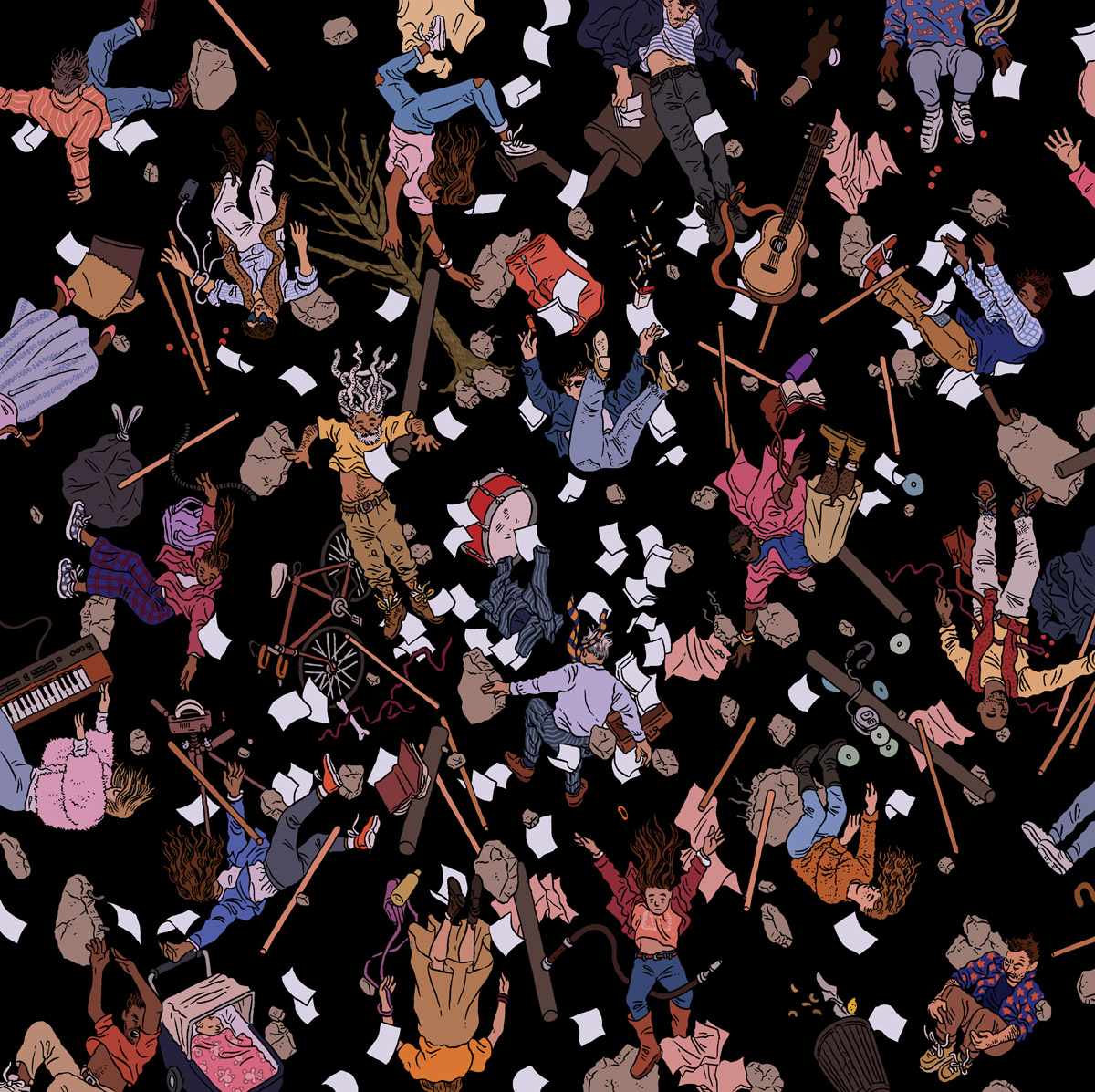 JH: What are you most proud of at this point in your life? This doesn't have to be art-related, but it could be.
IM: When you're an artist you spend a lot of time alone in your own world, so it's easy to become solipsistic and self-absorbed. I think that starting the ongoing process of learning how to become more mindful, kind, and a better son/brother/friend is probably the thing I'm most proud of.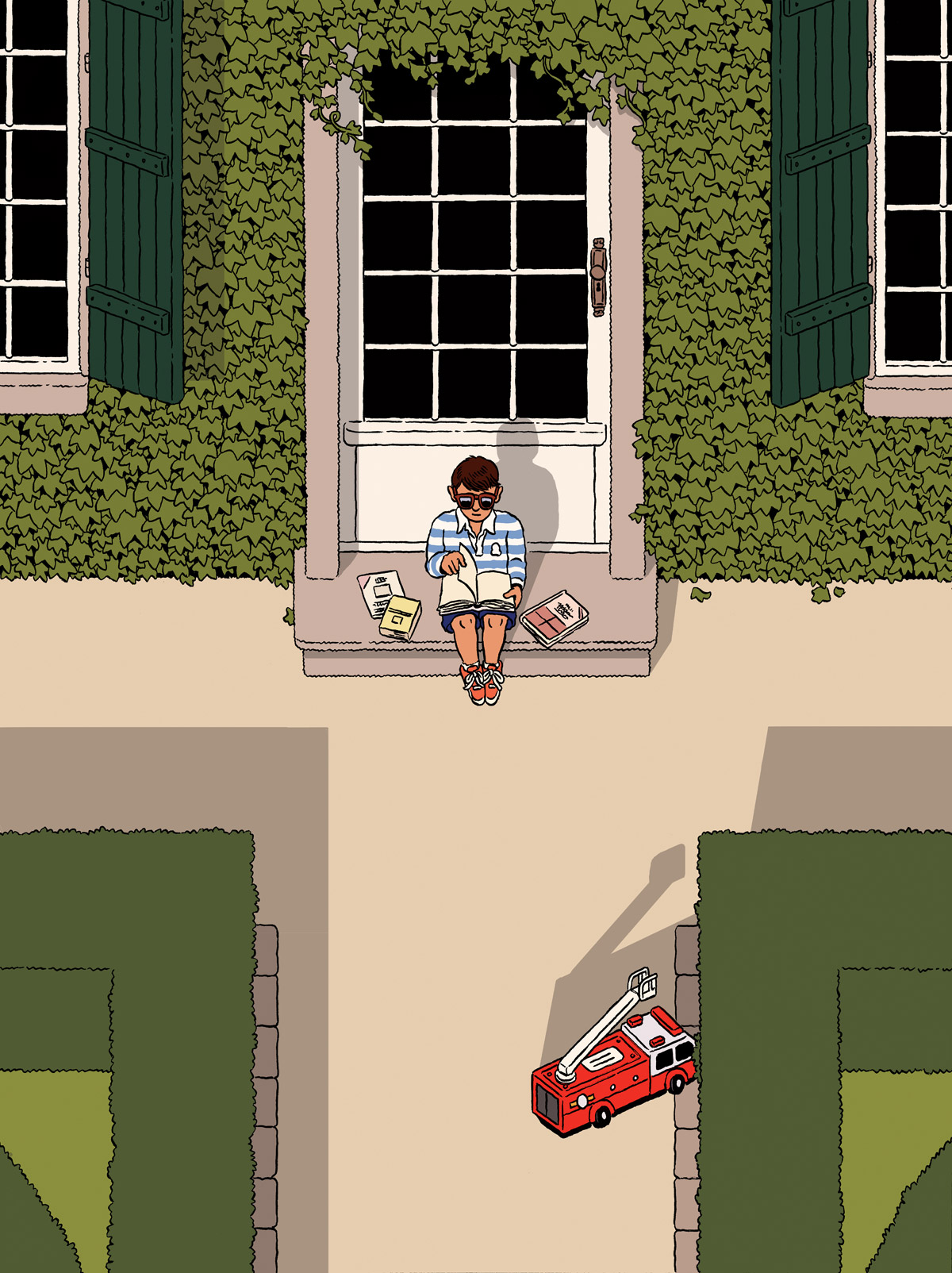 JH: What's one thing you want to accomplish this year?
IM: I started working as an illustrator full-time in January of this year with a thin folio, and was understandably concerned about my prospects. Since then I've signed with one of my favourite agencies, had my work published in both my favourite newspaper and my favourite magazine, worked with two of the five biggest tech companies in the world and done ridiculously fun things like the collaboration with you, so the year's really exceeded the wildest dreams I had for it professionally. Personally, that kind of workload takes a toll (I routinely work seven day weeks), so I'd like to figure out a better life-work balance and make more time for my own projects. Apologies for the humblebrag.
JH: And what about in your lifetime?
IM: To lead a rich, varied life, to travel a lot, to be surrounded by loved ones, and to give back in meaningful ways. Call to Submit: "Array" Photo & Art Features
We're now accepting submissions for "Array". This is open to artists and photographers!
Learn more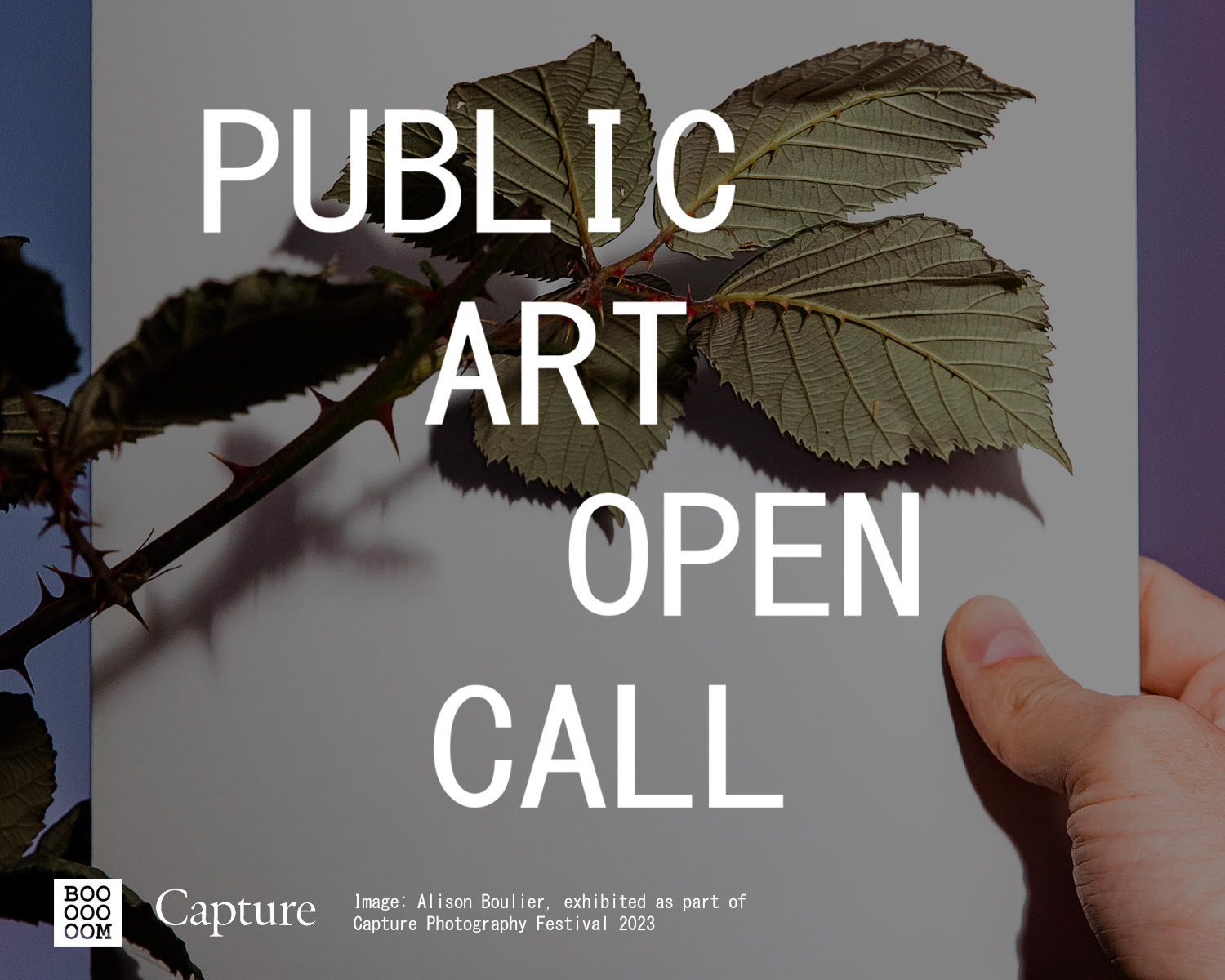 Booooooom x Capture: Public Art Open Call
Once again we're teaming up with Capture Photography Festival to curate a public art installation in Vancouver!
Learn more
Related Articles