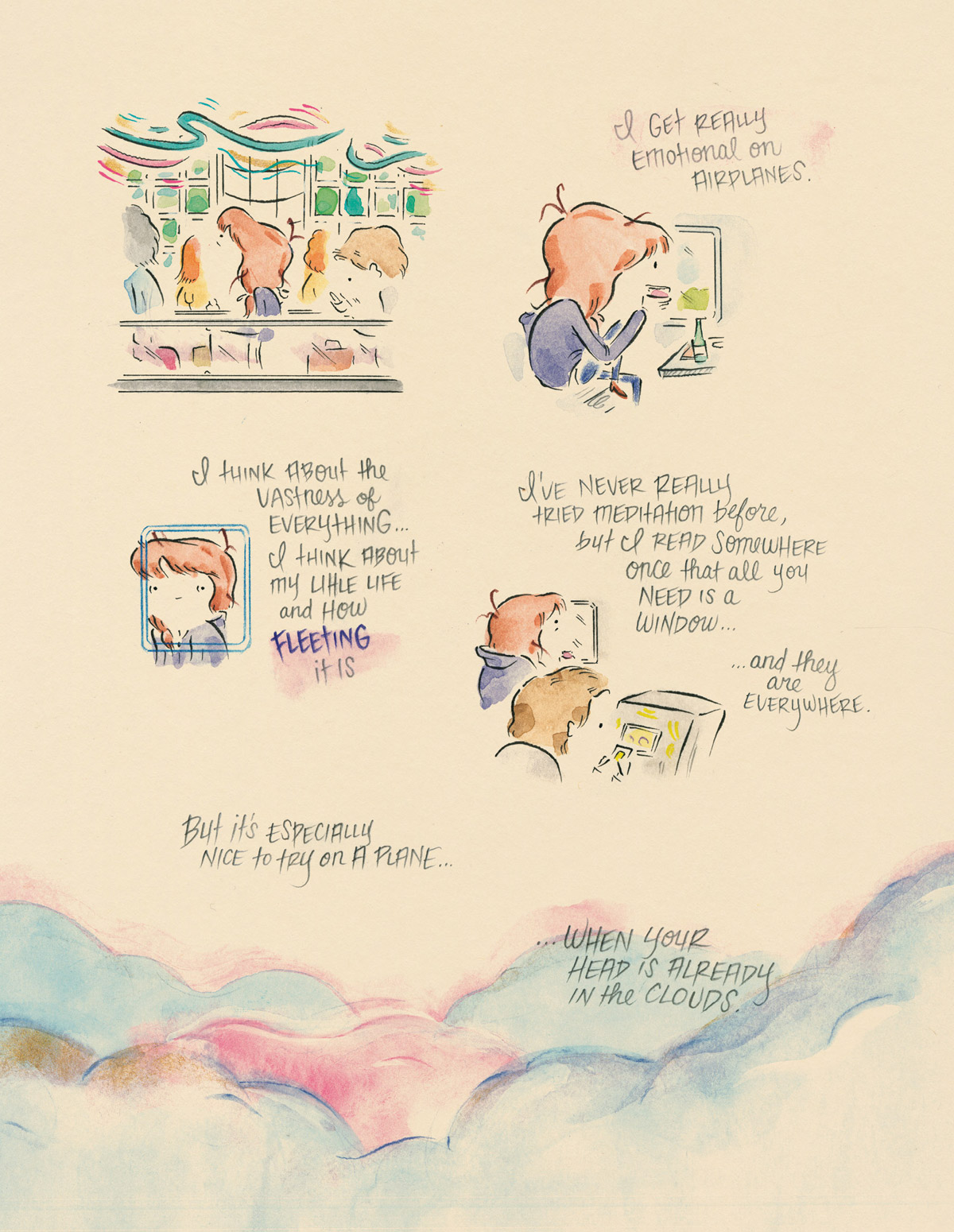 Booooooom: You share a lot about yourself and your life in your work but could you tell us a bit about your daily routine? When it comes to your artwork do you have a set schedule or is it more sporadic/dependent on when inspiration hits?
Leslie Stein: I try to draw about 5 hours a day on my drawing days. Usually I try to exercise first in order to get settled, but it doesn't really matter what time of the day I draw. I could start at noon and end at 5 or 6… or start at 6 and end at midnight.
I don't really sketch all that much, but I always have a notebook to write comics and ideas for comics when they hit me out of the blue.
Booooooom: You've drawn comics in a more traditional style in the past (ex: Eye of the Majestic Creature). How did the minimalist elements of your style emerge? Was there an exact moment when you felt like you'd developed a style that was distinctly yours?
Leslie Stein: I just kinda freaked out and started drawing these weird deconstructed comics as a sort of exercise back in 2014… I drew one page for a year, and so gradually over that time a more regulated style developed. The best of this work is collected in a Book called Bright Eyed at Midnight, which is a predecessor to Present.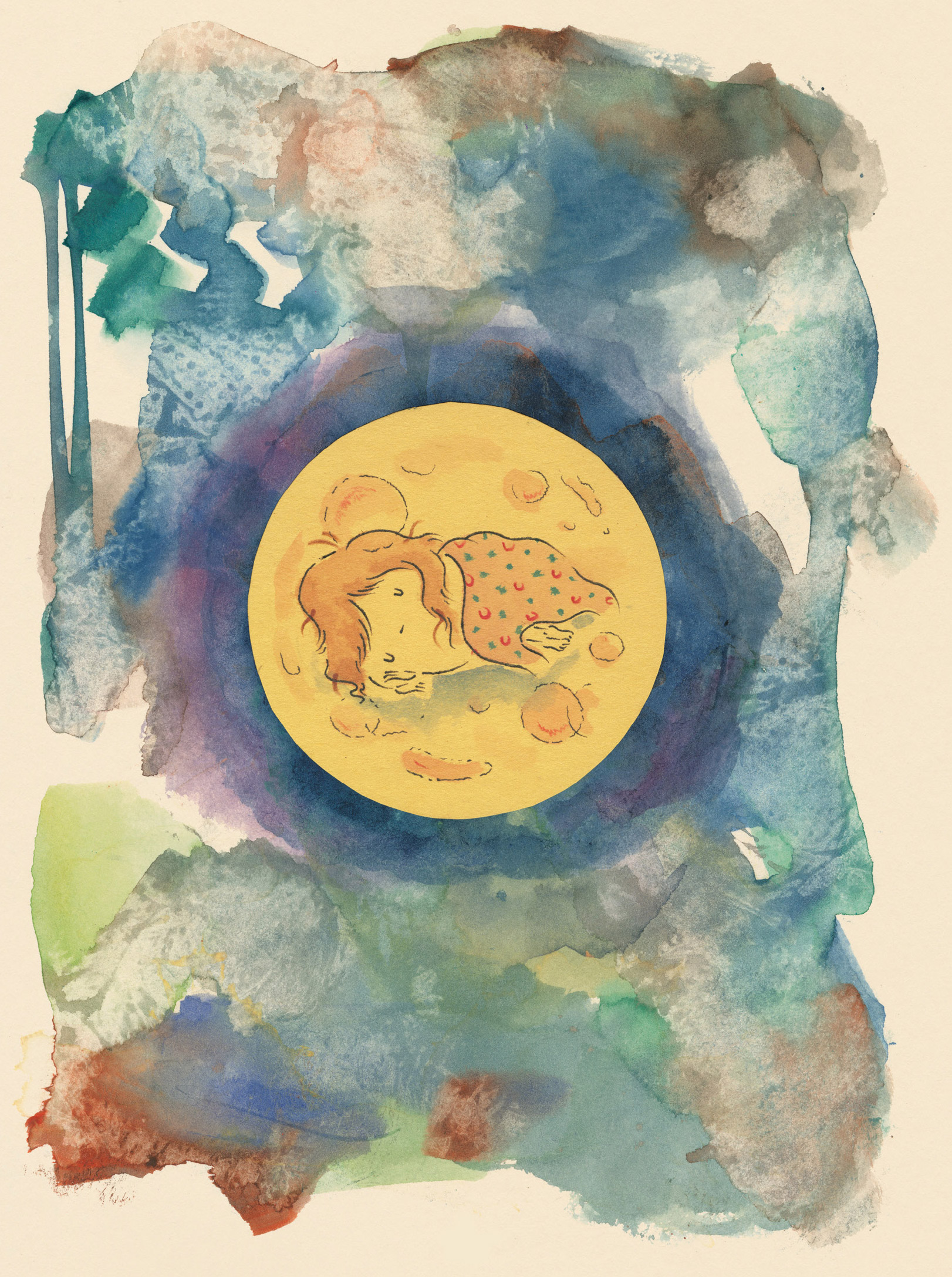 Booooooom: The cut-out design of the cover is so lovely and inviting–almost like a children's book. How did that come about and was there a specific intention behind it?
Leslie Stein: Thanks! I worked on the design with Tracy Hurren, my editor at Drawn and Quarterly. She had the idea for the die-cuts on the cover, and we worked collaboratively from there… Shifting around the different abstract elements on the cover digitally. It was fun and stressful, since I was okaying a lot of it from my tablet at work where I bartend. We never really talked about why other than that she knows that I really like circles. We were just trying to make the best little object we could. She deserves most of the credit!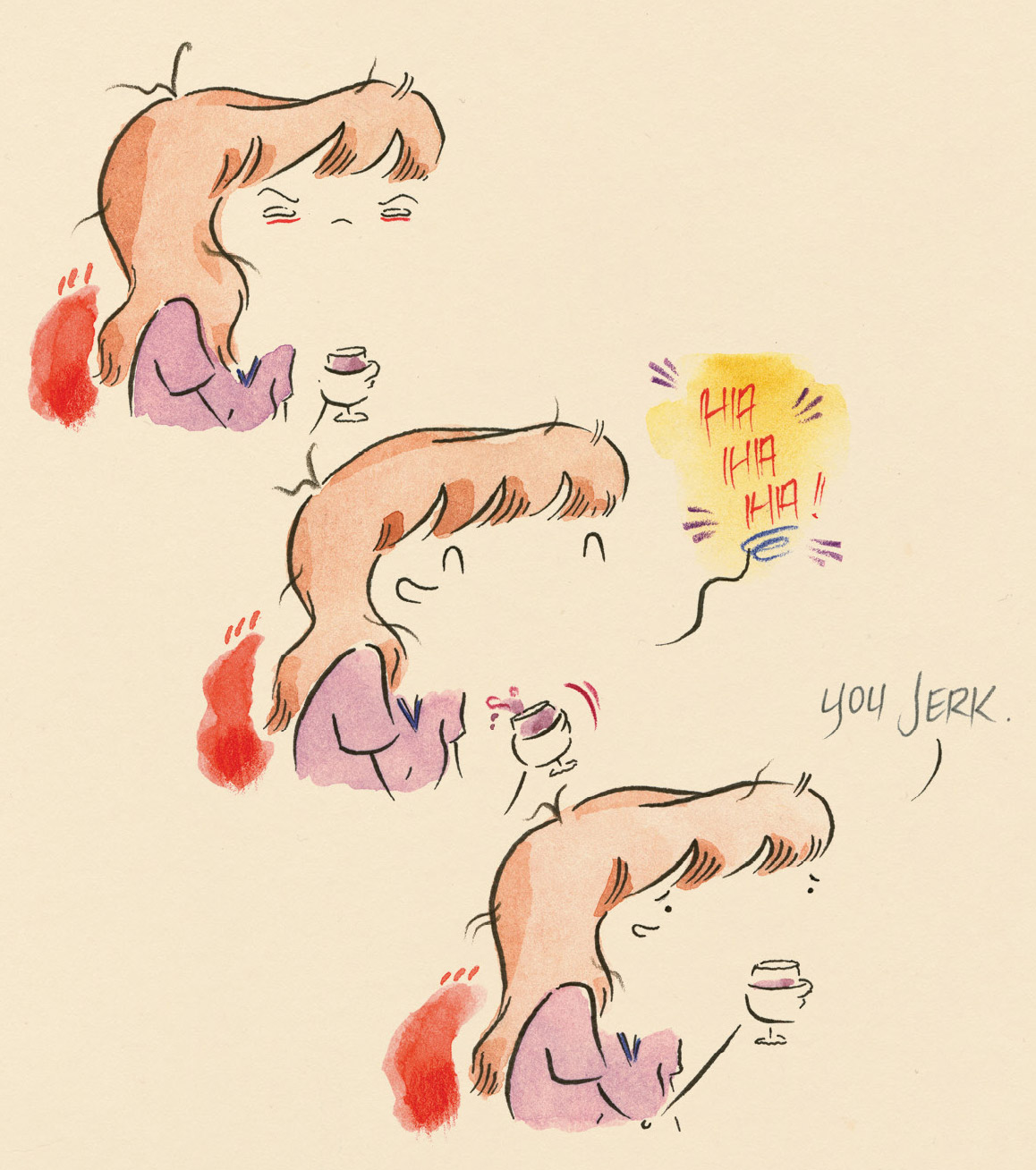 Booooooom: In the introduction to Present you reveal fun ways of tricking yourself into enjoying things you hate. Like cleaning your room as if you're a game show contestant being cheered on by an audience. Do you have ones for going to the gym or getting out of bed in the morning?
Leslie Stein: Haha, I had a very hard time getting out of bed this morning. I should try to think of one for that. I had a boyfriend once who set his coffee maker on a timer so he woke up to a hot pot everyday. That seemed like a nice reward.
"I think being self-critical is essential for any type of growth, but only to a point. You can't let it get in your way, sometimes you just need to let go."
Booooooom: On a serious note, the honestly with which you mention the real (and often disheartening) work that goes into what you do is so refreshing. And the idea of learning to treat it like the production or offering of a gift really resonated with me. Why do you think that shift in mindset has been so critical for you? Is it related to the pressures we place on ourselves or that others place on us?
Leslie Stein: For me, it's mostly myself… but it's probably both. I think not having much support for what I was doing for years affected me, like, 'well, now I gotta be REALLY good at this thing that no one respects or expects me to succeed at.' I think being self-critical is essential for any type of growth, but only to a point. You can't let it get in your way, sometimes you just need to let go.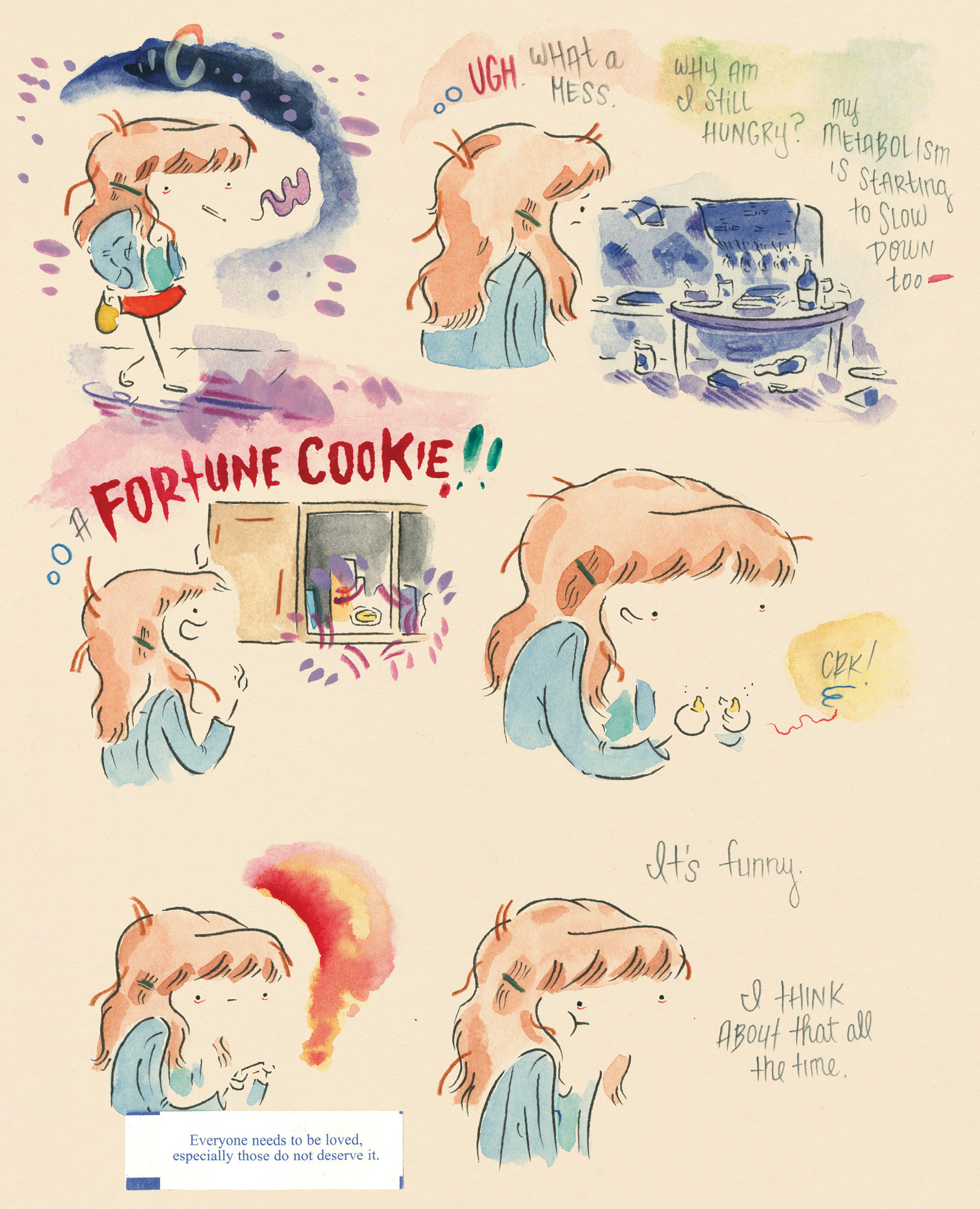 Booooooom: Aside from your art and wisdom, what is the best gift you ever given someone?
Leslie Stein: Aw, that's a nice question. I got a whole group of people to pitch in for my friends birthday present the year he turned 40. I wanted to get him an acoustic guitar, and asked people to give whatever they felt comfortable with and I'd find the best one I could depending on what we raised. I was able to get him a Martin which is a very expensive guitar. When he opened it at the surprise party he shed one single tear. I hope when he plays it he remembers how many people care about him.
Booooooom: What is the best gift you've ever received?
Leslie Stein: When I really feel listened to. That's the best. Also, I love getting drawings from people who say they "can't draw", which I don't buy! They are usually so sweet and weird and charming. Also, I would not be sad if I got a guitar for my 40th birthday. I wouldn't turn it down.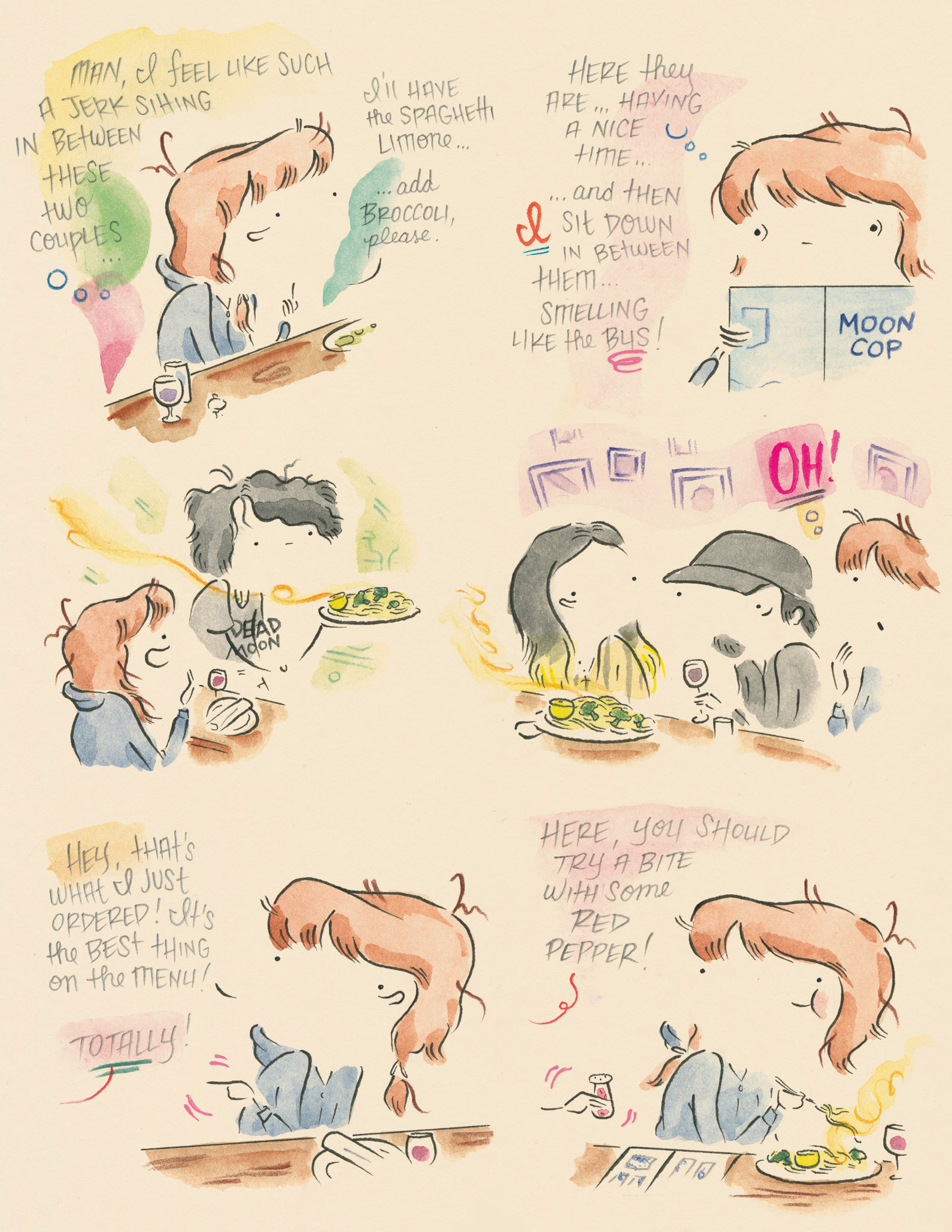 Booooooom: Even though your comics are autobiographical, I assume not everything is up for grabs. Do you ever create a comic and decide to keep it private?
Leslie Stein: Not really, I think through my comics quite a lot before settling on dialogue and imagery and pacing and where that particular comic will land up. There are things I don't get into on purpose, because I don't want to, and it's my art and I'm the boss of it. I want to be mostly feeling uplifted while I'm making it.
Booooooom: I think I noticed a little Mooncop reference. What have you been reading lately? Anything you'd like to recommend?
Leslie Stein: Yep! Tom Gauld. The Last Novel by David Markson, A Manual for Cleaning Women by Lucia Berlin, The Heavenly Table by Donald Ray Pollock.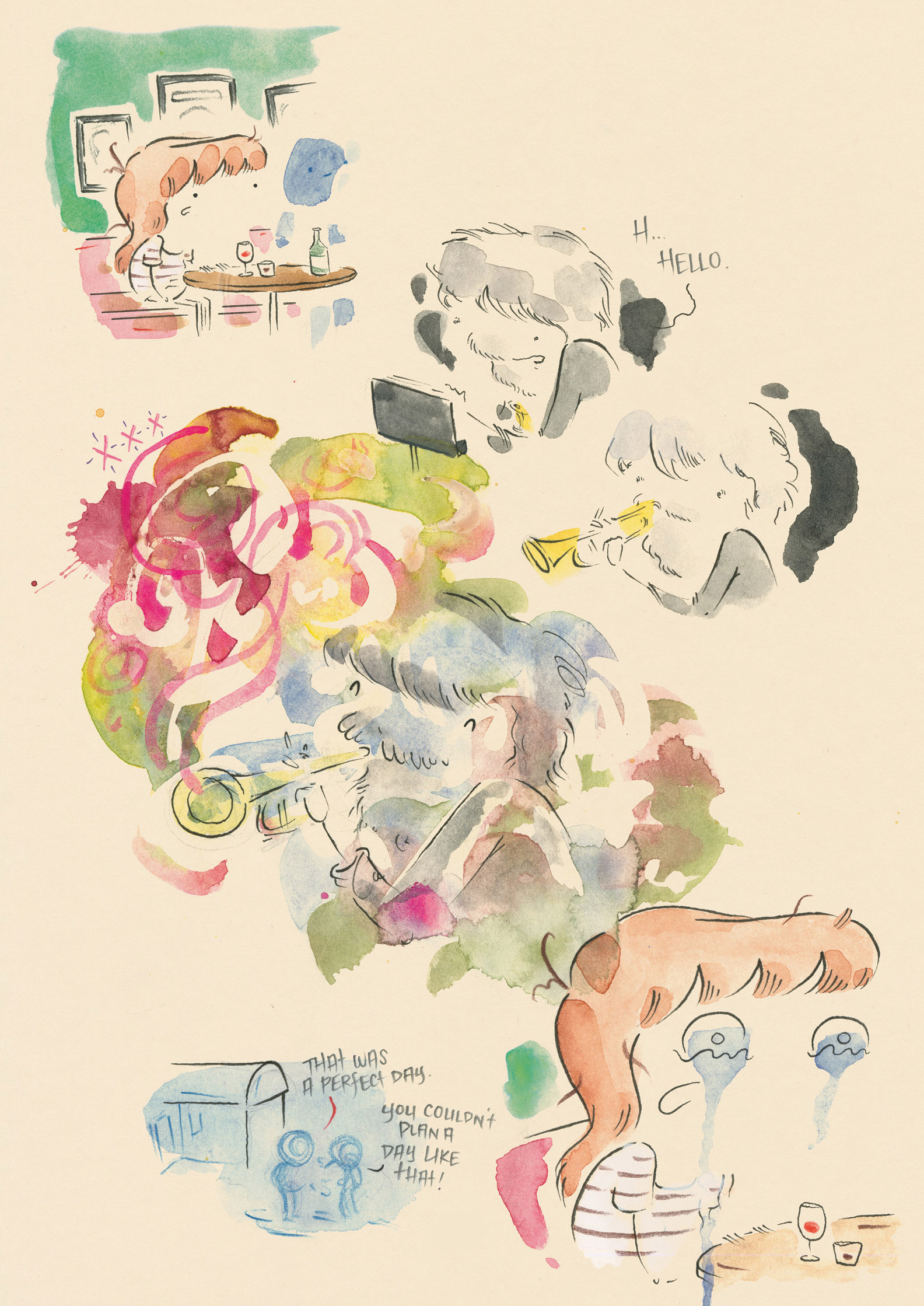 Booooooom: Many of our readers are artists and creatives too. Do you have any advice for those just starting out or struggling to stay motivated?
Leslie Stein: Eat sweet potatoes! They release fiber and nutrients slowly so you can work long hours without being unhealthy. And tons of vitamin A for your eye health. Call to Submit: "Array" Photo & Art Features
We're now accepting submissions for "Array". This is open to artists and photographers!
Learn more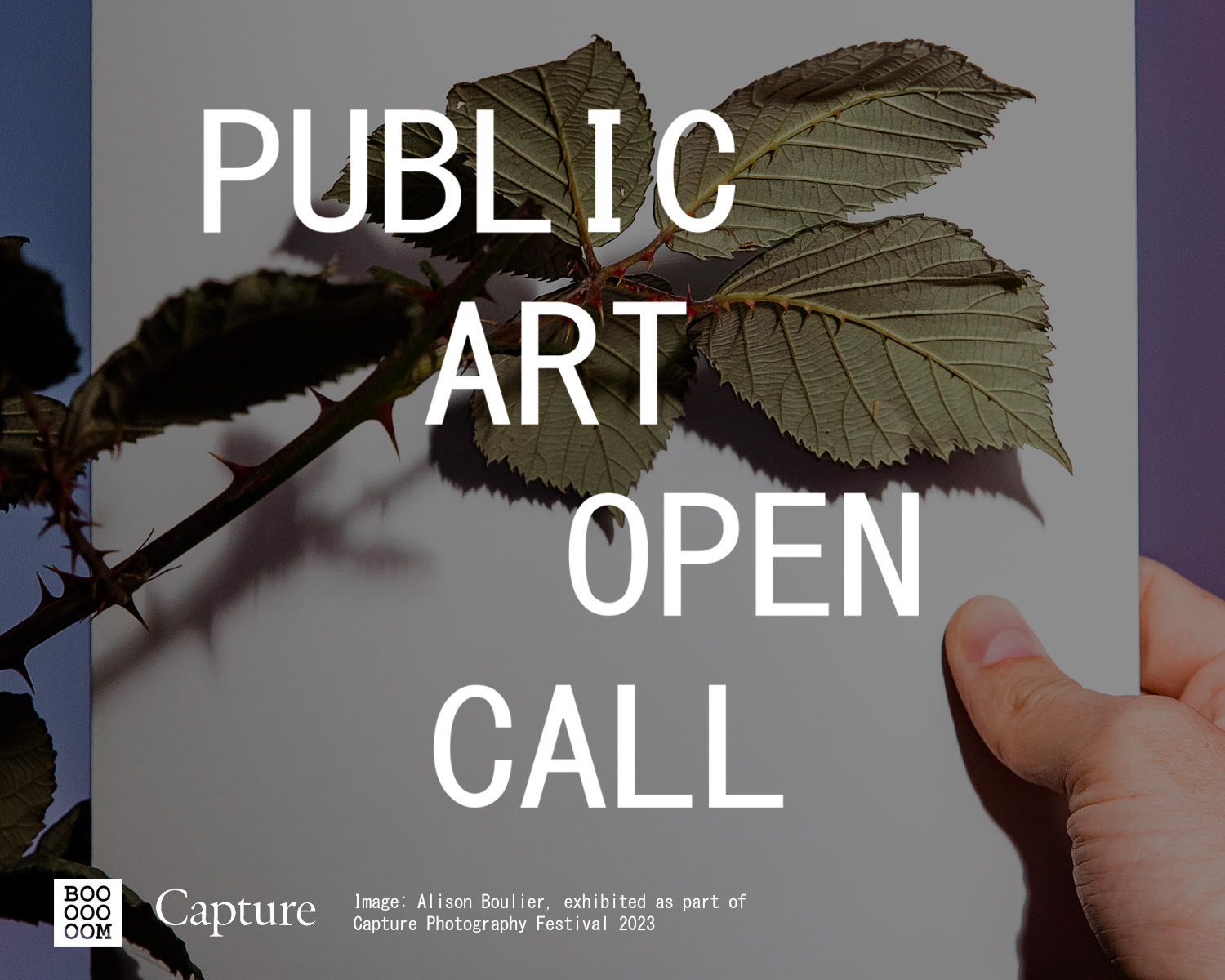 Booooooom x Capture: Public Art Open Call
Once again we're teaming up with Capture Photography Festival to curate a public art installation in Vancouver!
Learn more
Related Articles