At the end of every year I try to collect all my favourite photos in one giant post (you can see previous roundups here: 2013, 2012, 2011, 2010, 2009). I want to clarify that this doesn't mean all of these images were shot this year (many of them were), this is merely a collection of images I personally discovered in the past 12 months.
As part of the yearly tradition I wanna take this moment to say thank-you to all of you, everyone who continue to hang around on this website. Thank you for sharing your work, and encouraging the people whose work is featured here.
This is Booooooom's sixth year! It's kinda unbelievable to type that. Before this, the only job I ever had for more than a year was flipping burgers at McDonalds. I still love working on Booooooom every day because of you guys.
This past year Booooooom grew tremendously. Just over a year ago we launched @Booooooom on Instagram (would have done it sooner but some kid squatted on the name for three years) and already there are over 70,000 followers on there. Our Twitter and Facebook now have a combined following of nearly 250,000 and somehow our Google+ has amassed 3.5 million followers?! It's surreal.
I can't talk about this past year without talking about this email from a photographer named Eylül Aslan. Her email made my day (and week, and month, and year), which is why I called it "The Best Email in the Entire History of Booooooom". Of all the things I accomplished this year, I am most proud of what's in this email. The idea that Booooooom could affect someone's life like that. I guess that's really why I'm sitting here, at 6 AM (yet to sleep) writing this paragraph. I love that connecting with people, and connecting people to other people is somehow my job. It doesn't feel like work.
I hope you enjoy this collection of images below as much as me. Thanks!
Michael Julius
Kent Andreasen
Bear Kirkpatrick
Hana Knizova
Kuba Ryniewicz
Cig Harvey
Delaney Allen
Puzzleman Leung
Philip Lorca diCorcia
Tom Hoying
Harley Weir
Michael Rudd
Gene Guynn
Nadine Cordial
Michael George
Hubert Crabières
Maciek Jasik
Alexis Vasilikos
Elias Carlson
Ryan Duffin
Ute Klein
Rumi Baumann
Charlotte Dumas
Amiko Li
Ahndraya Parlato
Elizabeth Weinberg
Wayne Lawrence
Alba Yruela
Ernst Coppejans
Dru Donovan
Wai Lin Tse
Maja Daniels
Juan Aballe
Chelsea Welsh
Jonpaul Douglass
James Friedman
Adam Bartos
Go Itami
Alana Paterson
Kevin Trageser
Gabriela Herman
Daniel Le Breton
Ania Vouloudi
Goran Jovanovic
Czar Kristoff
Csilla Klenyánszki
Fergus Padel
Susanna Majuri
Antoine Bruy
Sasa Stucin
Tatiana Vinogradova
Amy Powell
Gregory Halpern
Jeff Luker
Jovan Todorovic
Justin Guthrie
Ester Grass Vergara
Arseni Khamzin
Marion Berrin
Masha Demianova
Jo Metson Scott
Robert Gaudette
Petros Koublis
Holly Lynton
Leon Chew
Mike Brodie
Olivia Bee
Lu Hui
Martin Kollar
Yann Faucher
Sam Irons
Laura Pannack
Stella Berkofsky
Walker Pickering Call to Submit: "Array" Photo & Art Features
We're now accepting submissions for "Array". This is open to artists and photographers!
Learn more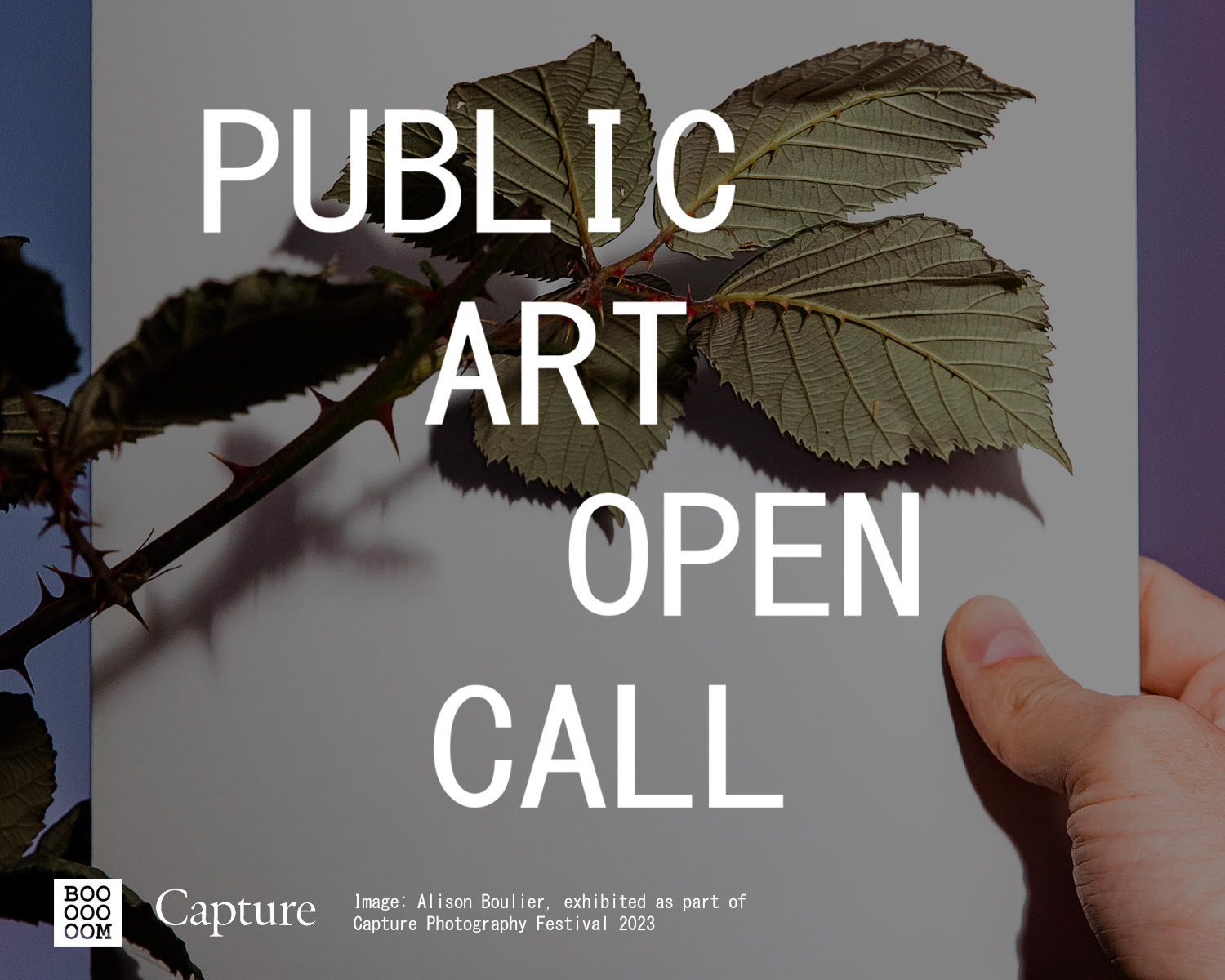 Booooooom x Capture: Public Art Open Call
Once again we're teaming up with Capture Photography Festival to curate a public art installation in Vancouver!
Learn more
Related Articles